Pack your bags and head into African sun, to fascinating Morocco! Join us for a long yoga weekend in bustling Marrakech: Experience the hippest travel destination and it's oriental charme while taking advantage of daily yoga, enjoying the delicious Moroccan cuisine and exploring culture.
Read this travel report to get know what to expect.
DAY 1
Arrival & Welcome Dinner
We're embarking on our journey at Berlin's TXL aiport. A short stopover in Paris and then directly to Marrakech, this pulsating city in Morocco's Southwest, better known as the "Red City", "Ochre City", or "the Pearl of the South". We'll soon understand why. Upon landing safely we head directly to immigration control – after all we're on the African continent now – for which we had to fill in a little form on the plane. Following a quick check I am welcomed by a friendly NOSADE driver in nicest weather. He drives us directly to our home for the next few days – Riad Maialou.
Departing the car I dive into the torrent that is Marrakech. Walking through winding alleys up to the door of the Riad, where the NOSADE team treat me to a warm welcome. It's like entering a tranquil oasis, all the turmoil stops and from one moment to the next all the vibrant life of the streets is gone. I feel like I have arrived in a little paradise, where a lovingly prepared traditional dinner is awaiting me and my four fellow travelers.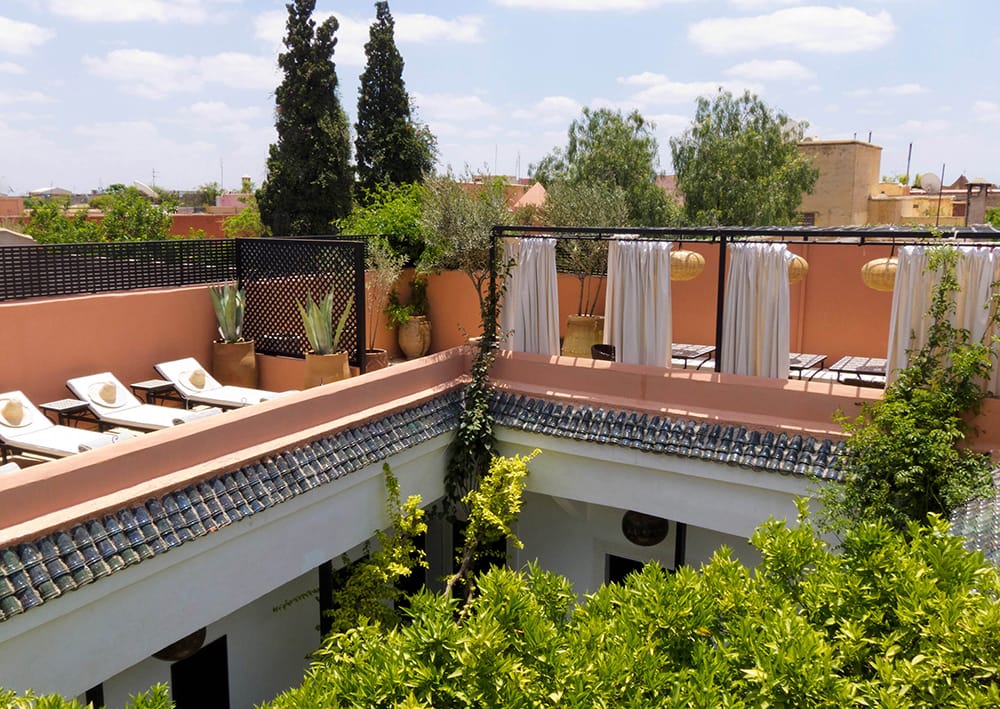 DAY 2
Yoga & Sightseeing
Following a restful night in a lovely traditionally furnished room we begin the day with a 90 minute yoga session on the Riad's rooftop. I jump out of bed, put on my yoga gear and off we go! Watching the astonishing sunrise over the roofs of Marrakech and the rich breakfast that follows allow me to forget all the hard work – typically Moroccan!
Then it's time to get ready: our guide Sami is taking us on a sightseeing tour into Marrakech's Medina. He leads us to all the must-see spots in this bustling and old part of the city – so many impressions and we get the opportunity to be introduced to Morocco's ancient culture by a true local.
Back at the Riad the day fades away with a calm yoga class. Over dinner we reflect on today's adventures and make plans for tomorrow.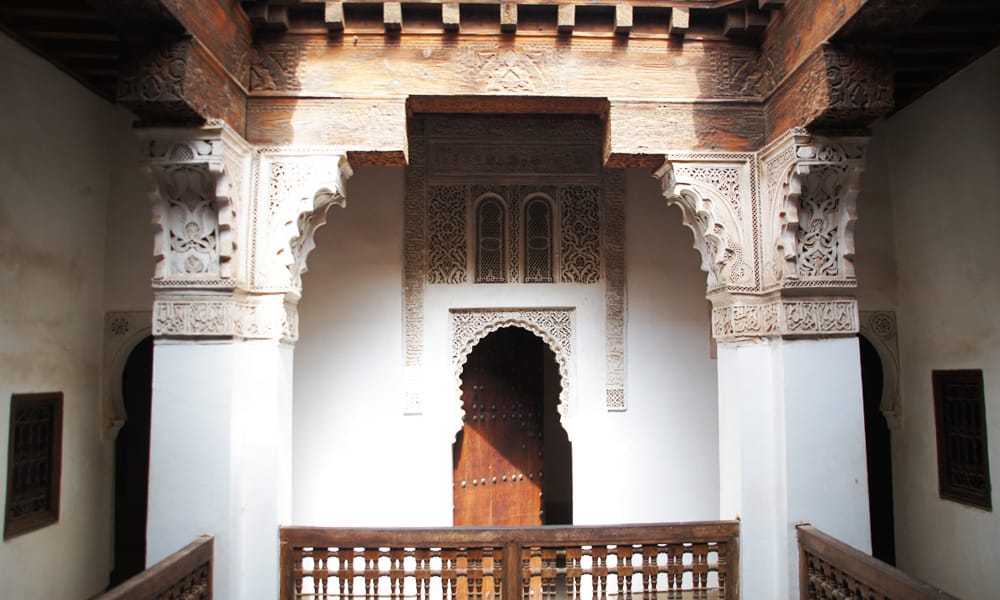 DAY 3
Yoga & (Self) Exploration
This morning's dynamic yoga class sets the mood for the day – we are applying the motto "self exploration" to our plans, literally: discover Marrakech on your own! Thanks to the introduction to the city Sami gave us yesterday, we feel properly equipped to throw ourselves into the fray. There is so much to discover and explore!
Sarah, one of my fellow travelers, and I decide to head to "Jardin Secret". There we experience history, fountains, and architecture all combined in a beautiful garden. We round off our little excursion with a delicious lunch and – of course – Moroccan tea – always a treat. Then we head back to the Riad, our little slice of heaven, through the Medina's 1001 little alleys. There a calm yin yoga session is exactly what we need to process our impressions and to shift down a gear. Relaxed and a little exhausted we dine together, enjoy some tea and then fall into our beds looking forward to what's to come.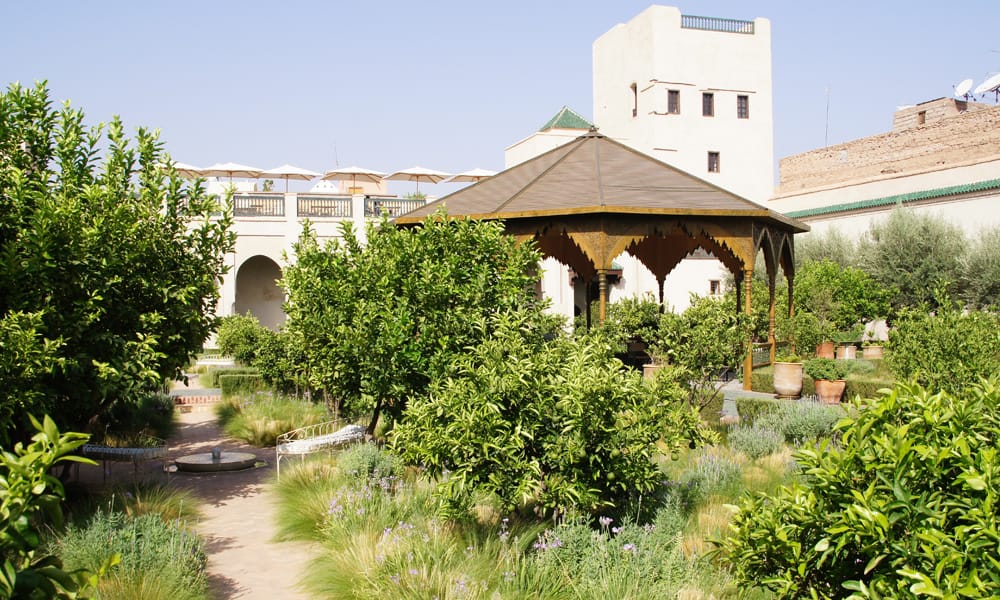 DAY 4
Yoga & Hammam
We're very much looking forward to today, as wellness is on the schedule. Of course we're each free to choose what we want! Following our morning yoga session and breakfast we begin the day slowly. A general feeling of relaxation and recuperation is in the air, while we are driven to a traditional Hammam, where the NOSADE team have booked a session for those interested.
Wow, a day at a Hammam with all that entails is truly an experience you should not miss! I don't want to spoil the surprise and share too many details at this point, as I wanted to be surprised myself, but I can promise you that I am ecstatic just thinking about it.
Tonight there is another special event: following our sunset yoga session on the terrace we're going out for dinner. Our group heads to beautiful Naranj Restaurant, where, sitting on the roof overlooking the city, we talk about the last couple of days and embrace our final evening in the pulsating "Pearl of the South". It was a truly colorful vacation with the perfect balance between relaxation and adventure.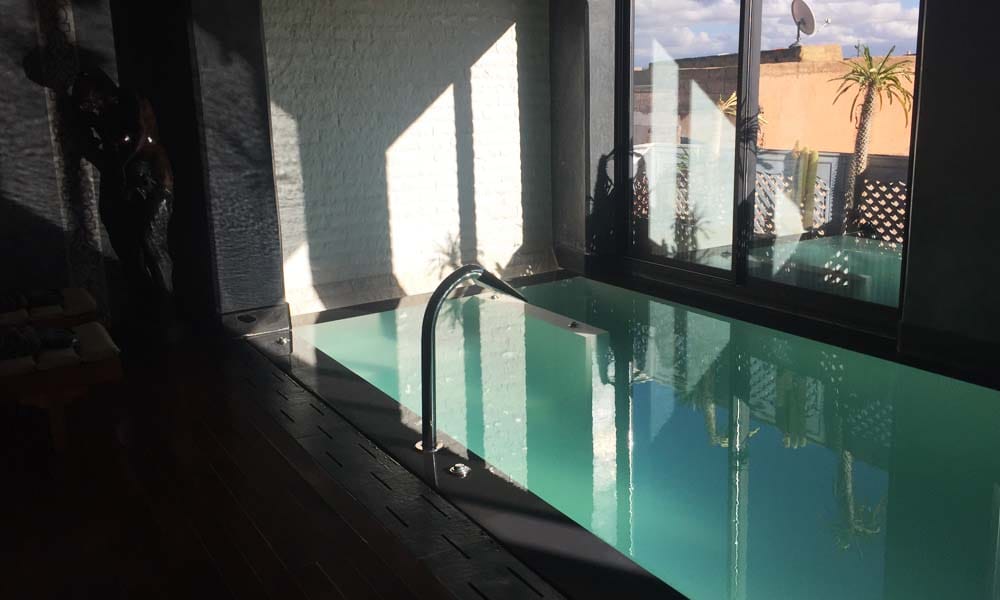 DAY 5
Departure
Today it's time to say our farewells. Luckily my flight isn't leaving until the early evening, so I've got plenty of time to stroll around the Souks and buy souvenirs and gifts. In Morocco this means I have to barter, naturally, to find a price that both parties are happy with…
With my bags packed, a taxi arrives on time to get me to the airport. I suck in the last rays of the sun, hug my fellow travelers and the NOSADE team goodbye and then it is – sadly – time to head back to autumn, back to Berlin. It feels, though, like I've taken some of the Moroccan sun with me, along with the memories of a wonderful trip.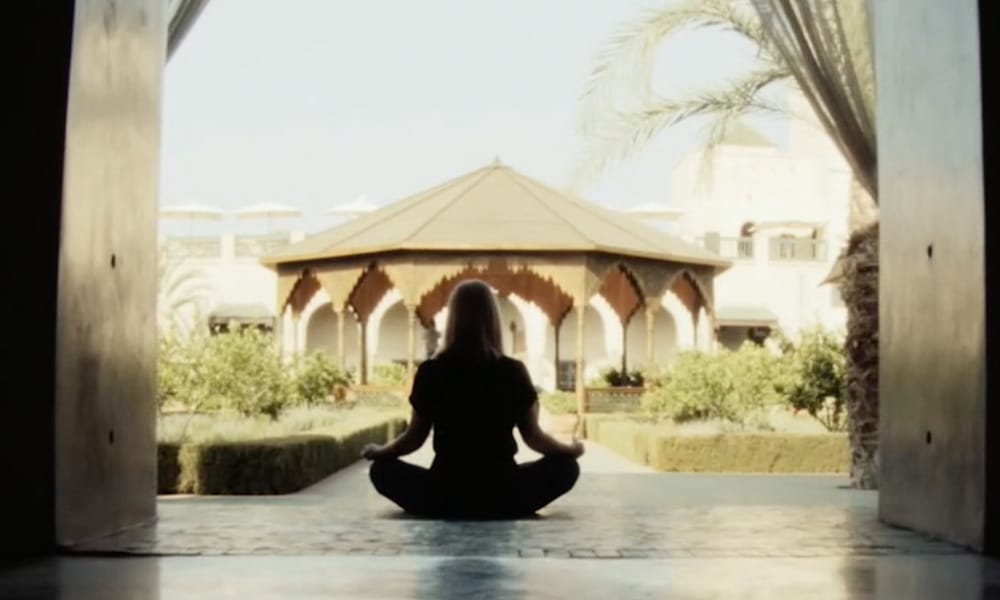 ©Katja Gronenberg for NOSADE.
NOSADE is looking forward to welcome you in beautiful Marrakech!
❤