12 Days of touring Morocco, accompanied by daily yoga:
Marrakech, Essaouira, Sahara Desert & Drâa-Valley –
a Travellog about an adventurous Yoga Travel Experience…
Arrival day
Over the day the guests arrive at Riad Maialou– our first accommodation in the heart of Marrakesh. The Maialou& NOSADE teams great us with a typical Moroccan dinner and we get to know our fellow travelers. The evening does, however, not go on too long, as we all fall into our beds, tired from the journey.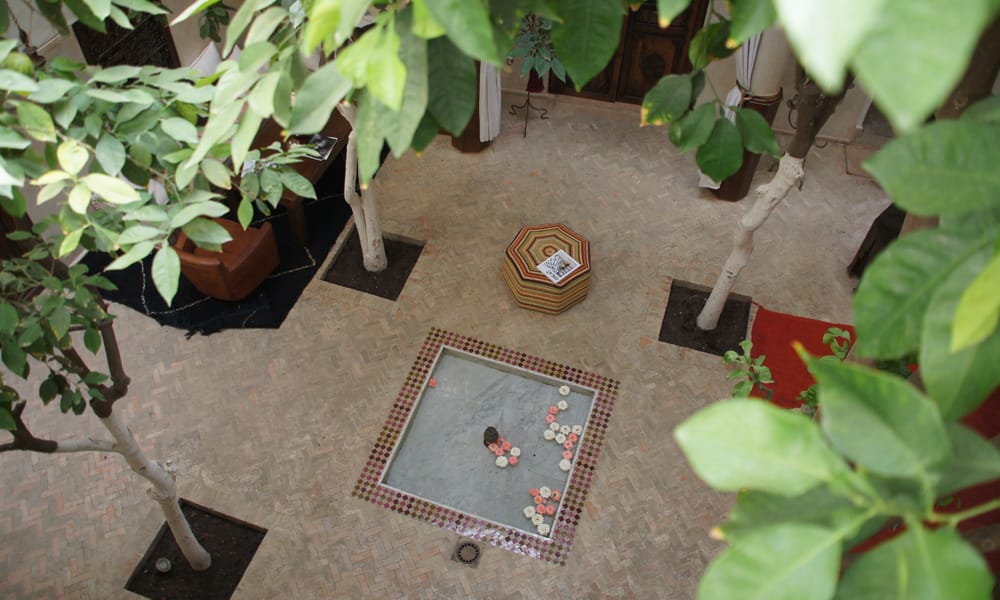 Day 1 – Marrakesh Tour on PIKALA-Bikes
Although Marrakesh's medinaseemingly never sleeps, we are sheltered from the bustle in our riadand during a quiet night I forget that I am at the heart of one of Morocco's lively royal cities.
We salute the rising sun with our first yoga class at the riad's roof garden at dawn, providing us with a unique view over the roofs of Marrakesh. This is followed by an ample breakfast under the orange trees in our home's inner courtyard – pancakes, honey, homemade yogurt with orange blossom water. Invigorated we are ready for our first adventure: a guided tour with PIKALA that is not really typical for Morocco. On imported, recycled Dutch bikes, maintained and repaired by local youngsters in workshops, we glide through the city in stark contrast to the mopeds and motorbikes that usually populate the streets of the Moroccan metropolis, while soaking up a load of rather interesting facts and stories about Marrakesh and its people as well as the issues concerning today's younger generation.
Back at the riadwe have some spare time for relaxation before our sunset yoga class. Afterwards we head to dinner where we are spoiled with salads and any tajinepreparation imaginable.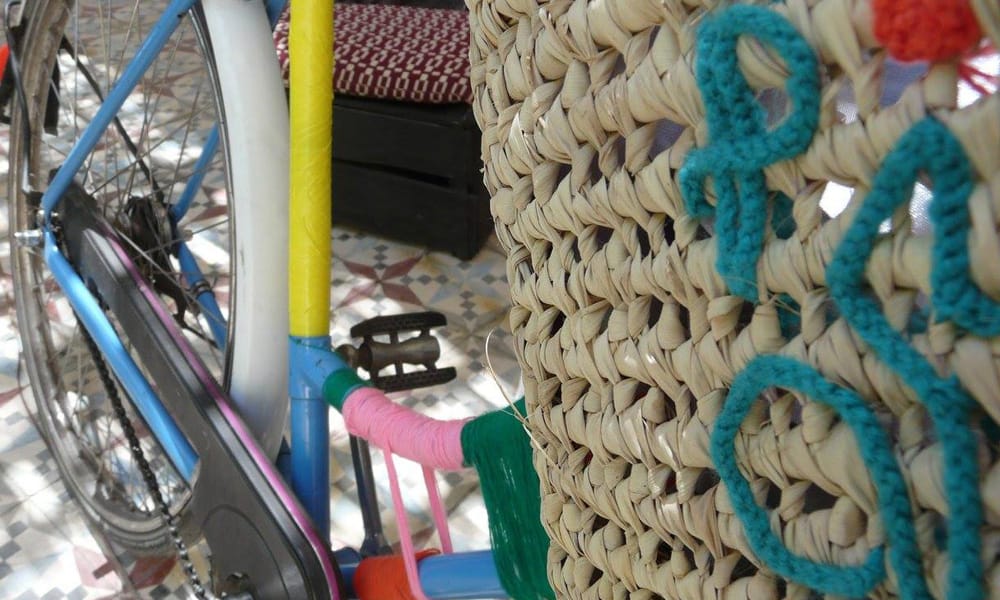 Day 2 – Essaouira, small, but beautiful!
Despite the fact that we can feel every muscle in our bodies from the previous day, we stay strong during today's morning yoga class. After breakfast we prepare for our journey to the sea. It's just a couple of hours drive in our private little bus to our accommodation in Essaouira, Riad Kafila. Equipped with maps and insider tips we head into the small and winding alleys of this exciting little coastal town. At dinner at one of the best seafood restaurants in town we are treated to live music while overlooking the Atlantic Ocean's roaring waves.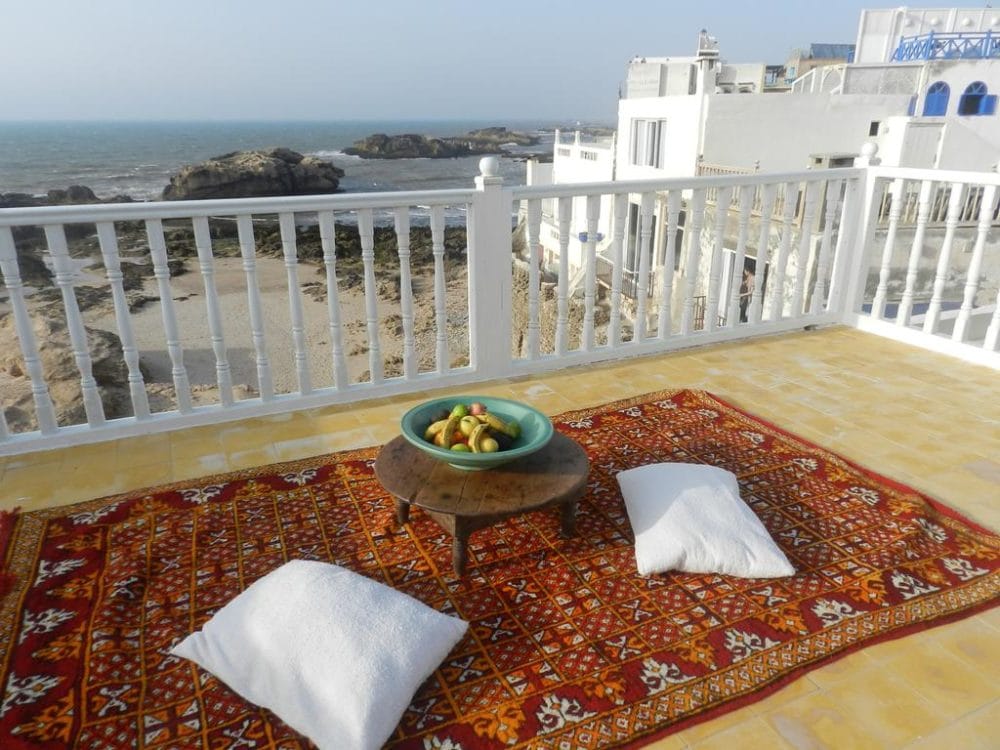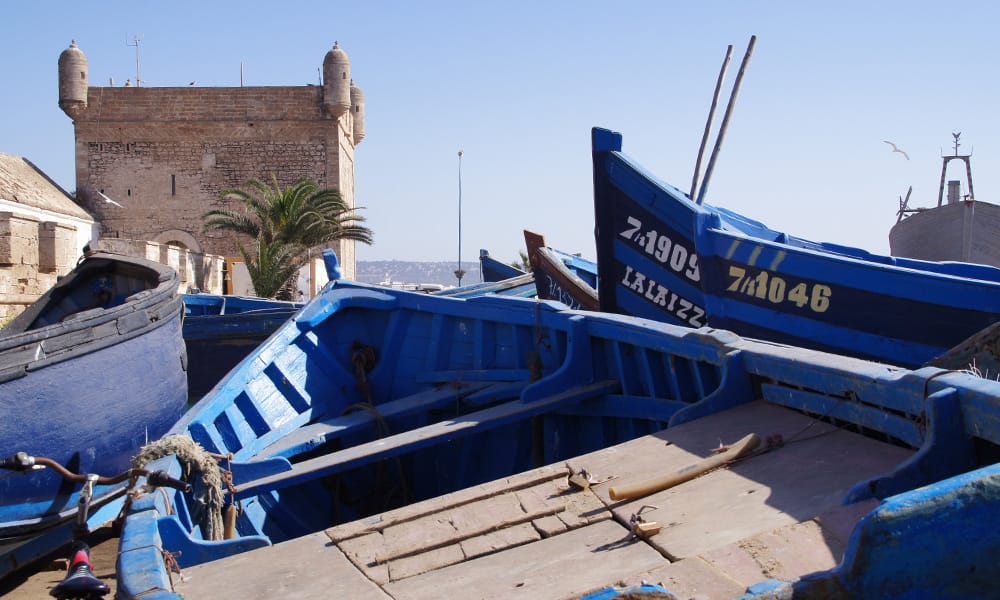 Day 3 – Guided Tour in Essaouira
Following our morning yoga session we enjoy breakfast on the roof terrace: the freshly squeezed orange juice is still as refreshing and sweet as it was on our first day.
The subsequent tour through the city is not quite as expected: no boring dates and dry figures. Our guide Rachida grew up here, she has studied history and culture of both her country and this little town in depth and shows us her home town from a different perspective. Her tales of life in the city and how it has changed are exciting and her childhood stories add an extra touch of authenticity.
Our second and final yoga session of the day grants us an insight into yin yoga, focusing on deep stretches and long holds of the asanas. It's exactly what our muscles needed.
With a good conscience we head to another famous fish restaurant, indulge in the menu, and let the evening fade away over cocktails at dusk.
Day 4 – From Essaouira to the Ecolodge Bab El Oued in Drâa Valley
We are leaving early for Agdz, a small palm-littered village in the Draa Valley where the cosy eco-lodge Bab El Oued awaits. The day-long drive there flies by as we drive through the ever changing diversity of Morocco's natural beauty, even though our bones are not too happy about an entire day spent sitting down.
Having arrived amidst the palm trees of the eco-lodge, our instructor guides us through a particularly restorative and relaxing yoga class before we enjoy an exceptional meal, a stunning view, and live music.
Day 5 – Exploring the Eco-Lodge
Besides two yoga sessions there is only relaxation on our itinerary for today. Following an extensive breakfast we want to experience Morocco's warm sun again, before exploring the vivid green plantations of our lodge and the local town's little market. Then the usual: yoga, dinner, sleep.
Day 6 – Leaving for Merzouga
Yoga in the morning, a fabulous breakfast at the pool, and a couple of hours for relaxation, then we're off to Merzouga, a little town at the feet of giant sand dunes. There our group, visibly impressed, boards our ships of the desert, the dromedaries that will transport us safely (and swayingly) to our camp amidst the dunes.
Day 7 – Berber Culture
After what has become our morning routine of yoga and breakfast, today featuring what can only be described as a sublime view of the Sahara Desert's giant dunes, we, as desert newbies, are careful to avoid the midday heat, spending our time reading and playing cards. Yidir, who has been in the desert a lot ever since he was a little kid, leads us on a hike. He literally knows every dune by name and we are thoroughly impressed as he takes us for tea with a nomad family at the edge of the desert.
The pleasant evening sun guides us back to our camp, where we enjoy another yoga session, before we marvel at the sunset bathing the desert in its astonishing array of colors. Our delicious dinner is followed by live music at the camp fire underneath a breathtaking night sky.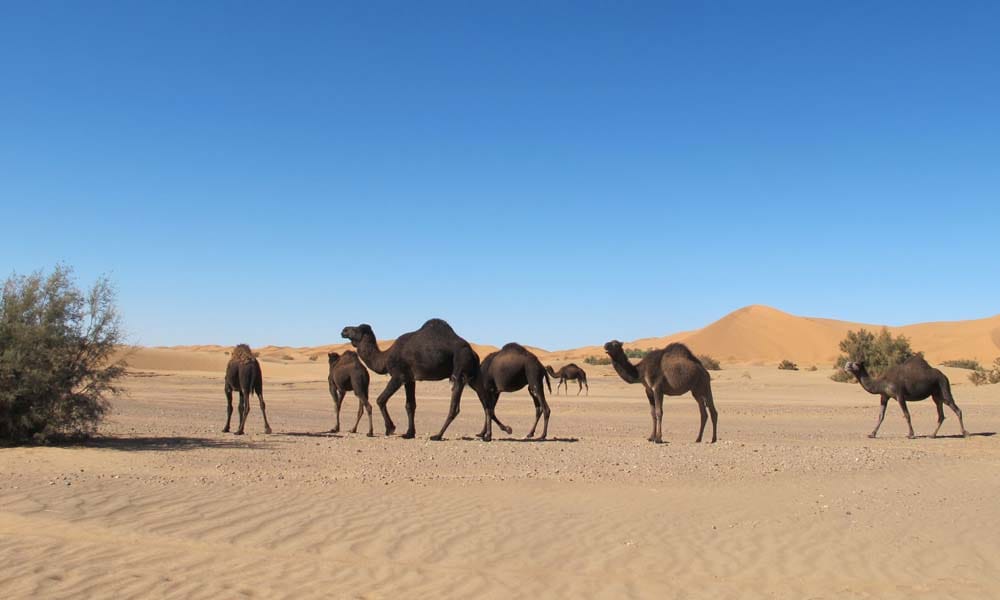 Day 8 – The Desert
Today it's just: yoga, breakfast, relax, relax, relax, yoga, dinner. And: feeling the desert. Taking in tranquility, strength, and serenity. Enjoying the exceptional beauty of this place.
Day 9 – Back to Merzouga
Yoga and breakfast, then our camels take us back to Merzouga to a superbkasbah, our hotel for another night. Following the days in the desert we cannot wait to hit the shower. And yes, it is the best shower of my life! We either spend the day relaxing at the hotel, reading with a view of the desert from its edge or with a small excursion to the center of Merzouga. Our yoga class at sunset will be this trip's final session – and maybe its most memorable in a unique setting. The dunes are orange, red, and purple while the sun is dropping lower and lower. Afterwards we are treated to a tasty dinner and our final night in the desert's absolute tranquility.
Day 10 – Back to Marrakech
Today it's time for another bus ride. We are leaving early to return to the starting point of our journey: Marrakesh. After a ride that is almost twelve hours long we are greeted by our last tajineunder Riad Maialou's orange trees in the royal city. We spend the evening reminiscing about our adventure.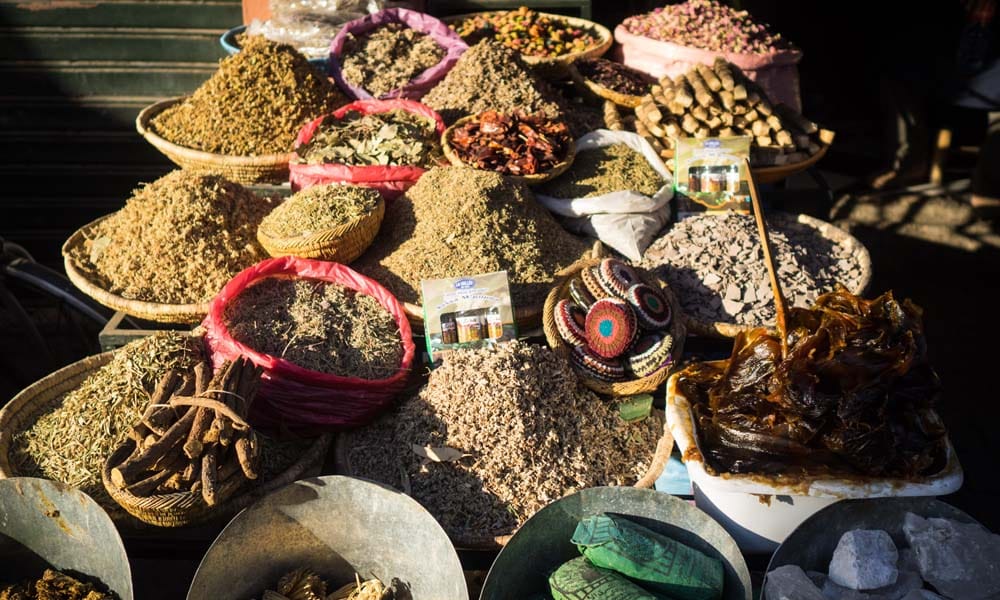 Day 11 – Farewell Morocco!
It's time to say goodbye – to bid farewell to friendly people, to spices, to hustle and bustle, to a very different world that all of us want to experience again. With mixed feelings, but most of all with a plethora of new experiences, we board our planes home, ready to face everyday life back home with Moroccan calm.
You also want to join us for a Yoga Round Trip in Morocco?