12 Days of touring Morocco, accompanied by daily yoga:
Marrakech, Essaouira, Sahara Desert & Drâa-Valley –
a Travel Report about an adventurous Yoga Travel Experience…
Arrival day
Over the day the first guests are arriving already at Riad Maialou – our first accommodation – in the heart of Marrakesh. We are greeted cordially by the NOSADE team over a Moroccan dinner and get to know our traveling companions. Still a bit tired from the journey we head to bed at a reasonable time.
Day 1 – Jardin Secret
Even though Marrakesh's Medina never seems to sleep, I enjoy a calm and quiet night in our Riad, almost forgetting that I am in one of Morocco's busy Imperial Cities.
The next morning we are greeted with a rich breakfast in the shade of the Riad's orange trees – pancakes, honey, and homemade yogurt with orange flower water. Invigorated we approach the first item on our schedule – Jardin Secret, the secret garden. It's not as famous as Jardin Majorelle, unfairly so, it seems to me, as it offers a similar "Arabian Nights" flair, but that has its benefits, too: as a bit of a secret it is a lot less busy.
Lounging on the terrace overlooking the garden's incredible floral riches we enjoy some coffee in the midday sun.
At night we are treated to another feast: a rich selection of salads and Tajines make us feel spoiled.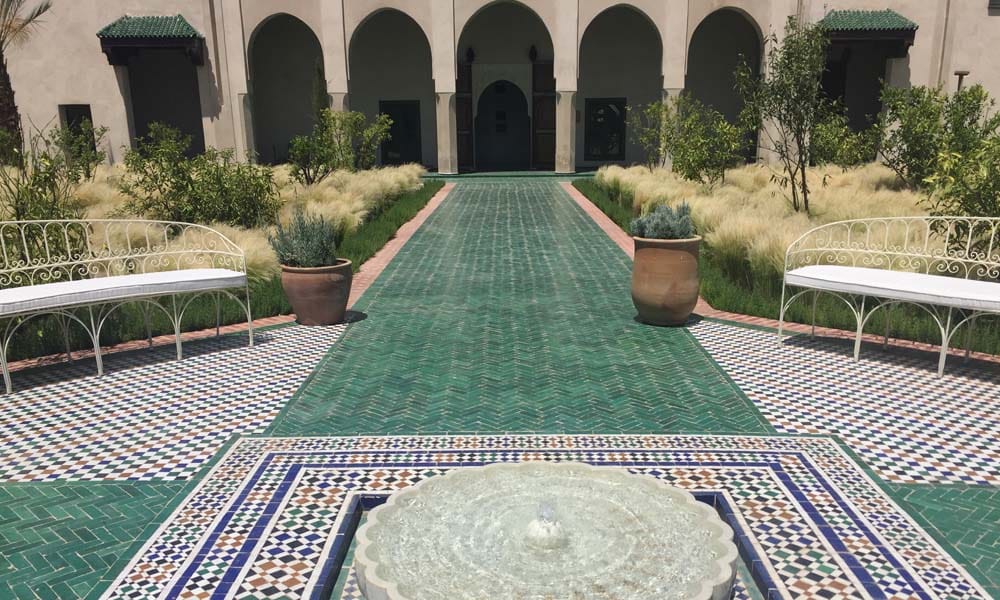 Day 2 – La Ferme Berbère
We have our first yoga session on our Riad's roof with Katrin early in the morning, before it's too hot. A little bit of activity doesn't seem like a bad idea, we're going to be spending the day in a wellness oasis outside Marrakesh, La Ferme Berbére, after all. From traditional Hammams to massages and a refreshing pool, the Ferme has it all. And we are the only guests!
Fully relaxed we fall into our beds after a 3 course dinner with fine Moroccan wine.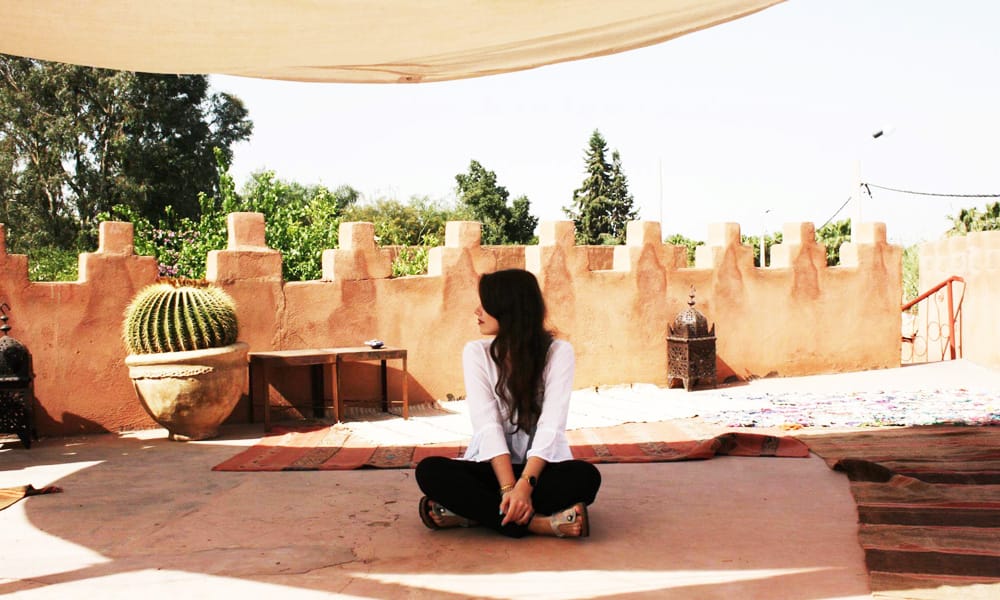 Day 3 – Essaouira, Small but Beautiful!
Despite a bit of a strain in our muscles from the previous day, we stay strong for another morning yoga session. After breakfast we get ready for our journey to the sea. We reach our residence in the town of Essaouira, Riad Baladin, after a few hours drive in our own minibus. Equipped with maps and insider tips we explore the lovely seaside town's little alleys.
Dinner is quite the experience: At an artist's house we are treated to fresh fish, live music, and a fire performance.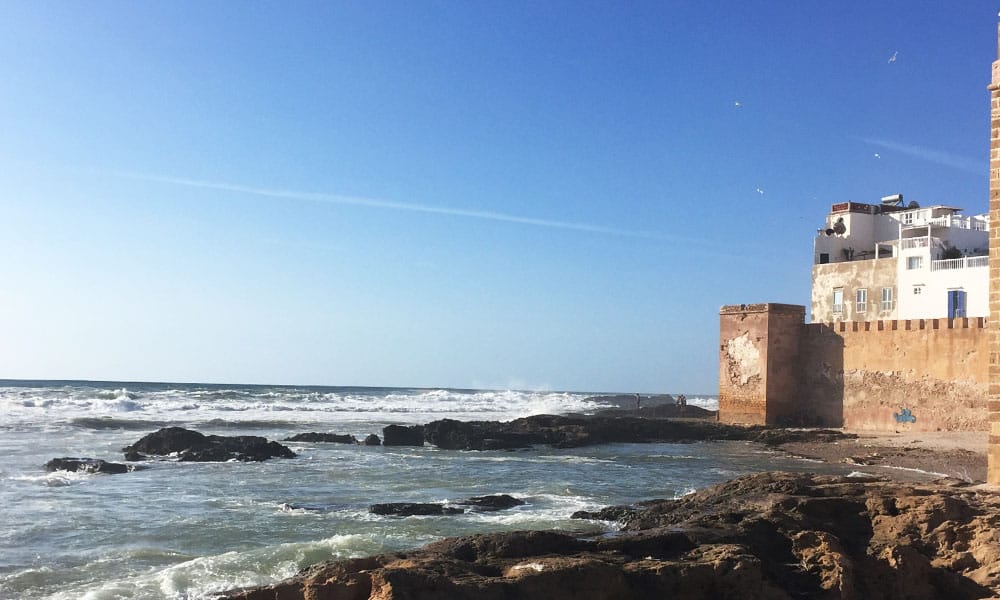 Day 4 – a Special Kind of City Tour
Following our morning yoga session we are enjoy a great breakfast on the roof terrace. The freshly squeezed orange juice is still as fabulous on day 4 as it was on day 1!
Our subsequent sightseeing tour differs from our expectations: Rachida, our guide, grew up here, has thoroughly studied history and culture of both her country in general and the little town in particular and introduces us to a different perspective on her home town. Stories from her childhood illustrate her tales of everyday life in Essaouira and of how it has changed over the years.
Our second, and final, yoga session for the day introduces us to yin yoga. Its focus on stretching and the long periods of time over which the asanas are held provide a welcome change for our muscles.
With a clear conscience we head to a famous fish restaurant overlooking the sea, taste the menu, and let the day fade away with cocktails at dusk.
Day 5 – To Merzouga
We don't really have time for morning yoga today, as there is a 14 hour bus trip ahead of us. If it weren't for the curvy passes of the High Atlas mountains, it might well be possible to cover the 600km to Merzouga more quickly, but the stunning views from up in the mountains that we enjoy from the bus and during our numerous coffee stops more than make up for the long journey. At night we finally arrive at Kasbah Panorama, our home in Merzouga, longing for our beds.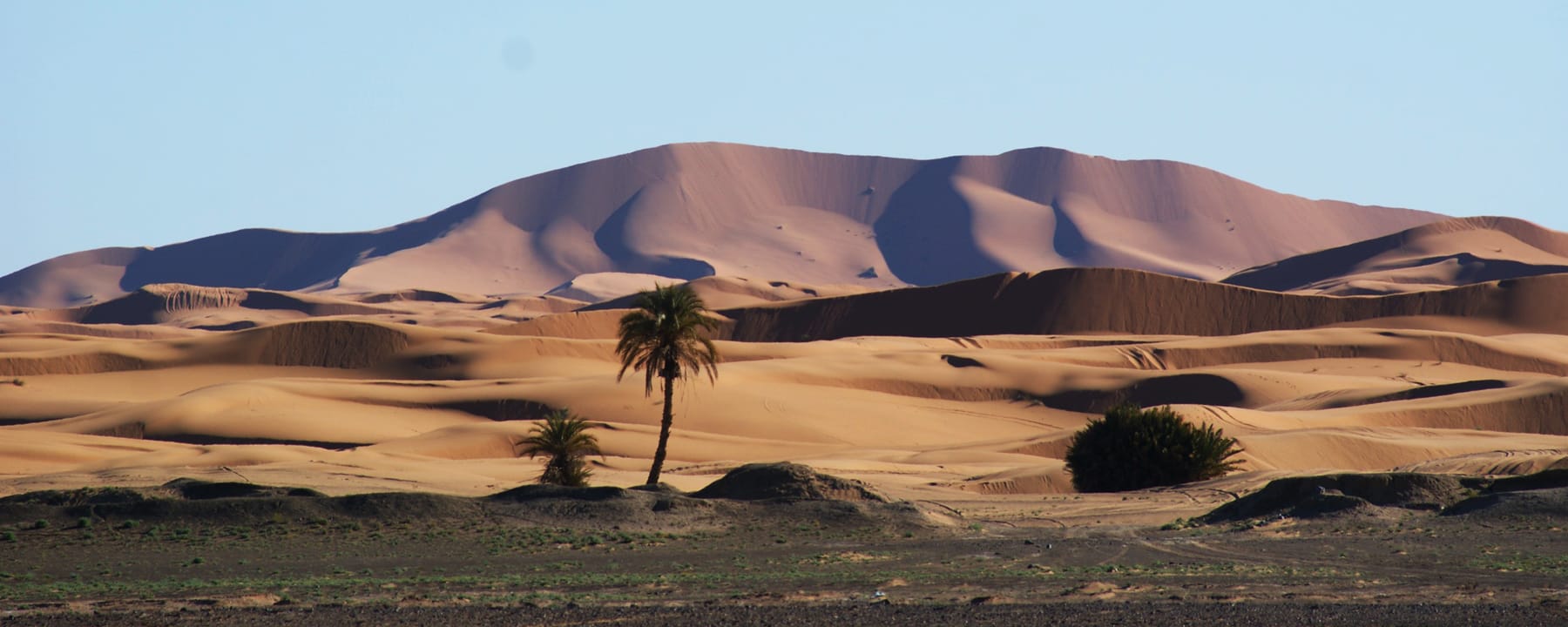 Day 6 – Berber Culture
Back to our usual morning ritual – yoga first, then breakfast. Today is different, though, as we are enjoying a tremendous view of the desert's incredible sand dunes.
Later we head to Yidir's family for lunch. Sitting on pillows on the ground, two giant steaming hot Tajines between us, we embrace the cool of the mud-walled house during the hottest hours of the day and get to know the family. Then we're off – we pack our bags and mount the camels. Having traveled into the desert for roughly an hour we arrive at our little desert camp where we are greeted with an excellent and extensive traditional dinner.
Day 7 – the Desert
We have our first desert yoga session in the shadow of a great sand dune. As desert first timers we decide to keep in the shade during the midday heat and pass the time playing cards and reading. Yidir, who has spent a lot of time in the desert ever since he was a boy, then takes us on a hike – he literally knows every sand dune by name.
Gently touched by the evening sun we revel in another yoga class at dusk, the desert glowing in the suns last light. At dinner we are treated to live music around a bonfire under the breathtaking night sky.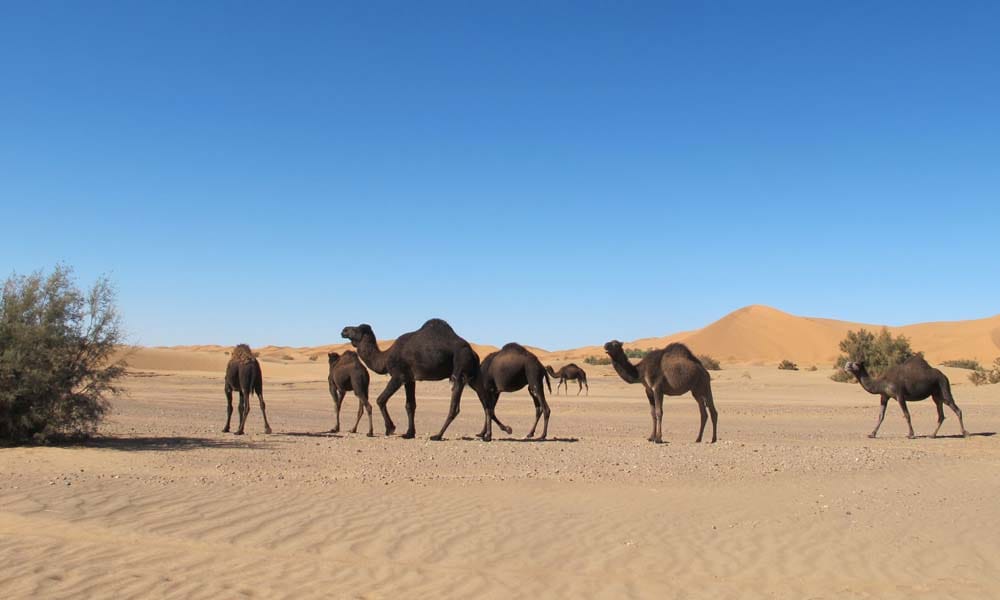 Day 8 – Ecolodge Bab El Oued in the Draa Valley
At 8 in the morning our camels take us back to Merzouga and we are looking forward to a shower at the hotel. Having washed off the sand, we head to Agdz, a town in the Draa Valley, where we will be staying at cozy ecolodge Bab El Oued. Katrin leads another yoga class under palm trees before we get to enjoy our Moroccan dinner.
Day 9 – Exploring the Ecolodge
Two yoga sessions and a lot of relaxation – that's what we have planned for today. Following another great breakfast we bathe in Morocco's warm sun – gotta get a proper tan before the trip is over! Then we explore the lodge's lush plantation and browse the town's market place.
Day 10 – Atlas Film Studios in Ouarzazate
Today our group is splitting up, as some of us already have to head home. The remaining travelers embark on our journey's final leg: the trip to Ouarzazate. We stroll over the local market place, have a snack at a café, and then visit Atlas Film Sudios, where we are treated to a tour of movie sets ranging from such classics as "Cleopatra" to modern day box office hits like "Gladiator".
Back at the Riad we follow our yoga session with a drink on the terrace and discuss our travel experiences enthusiastically over dinner.
Day 11 – Final Visit to Marrakesh
Another bus trip awaits, as we are returning to Marrakesh. After a 5 hour journey we embark on a tour of the city – not the easiest of endeavors at 38°C, but as a group we are thoroughly enjoying ourselves. Over a final Tajine under Riad Maialou's orange trees we look back at our travels – what a journey it has been!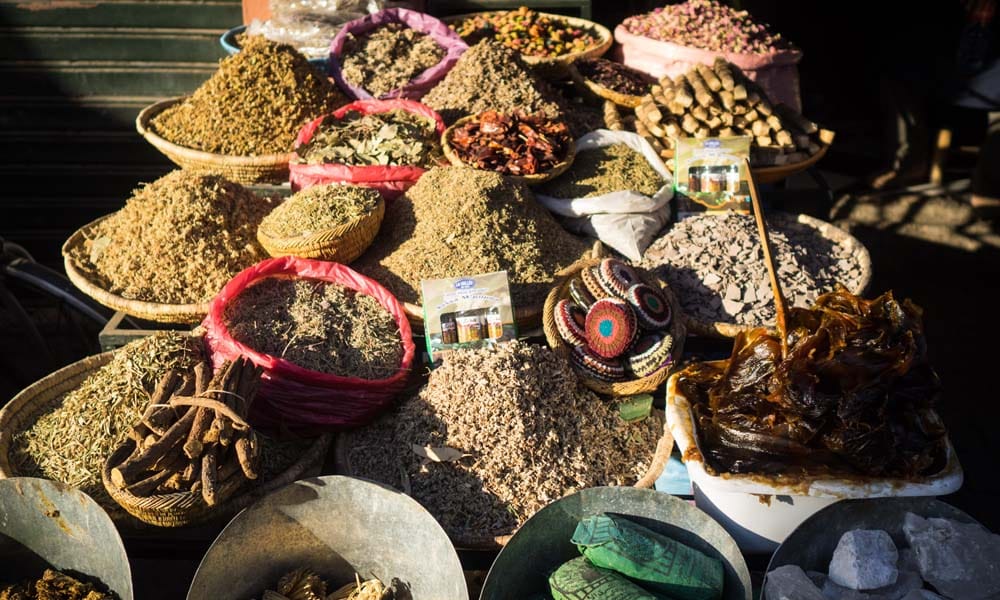 Day 12 – Goodbye Morocco!
The time has come to say farewell – farewell to the kind people we encountered, the spices, the bustling cities, that different world that we all want to experience again. With mixed emotions, but most importantly with a whole lot of new experiences we head for the airport to fly back to Germany, to our everyday lives that will have us back far too soon.
You also want to join us for a Yoga Round Trip in Morocco?