10 Days Yoga Travels to Morocco's most beautiful Sights: Marrakech, Sahara Desert & Drâa-Valley –
a Travel Report
Day 1 – Arrival in Marrakesh
Over the course of the day the travelers arrive in Marrakesh and move into their rooms in a beautiful quiet old town Riad. At night the NOSADE-Team cordially welcomes us with a lovely 3 course meal. The welcome dinner is a great opportunity to meet our fellow travelers and to get to know them in a relaxed atmosphere that sets the right Moroccan mood for the coming days. The muezzin's call resounds over the Medina and we are enchanted by Marrakesh's charms. The light, the scent, the prayer calls – we feel like we've entered another world.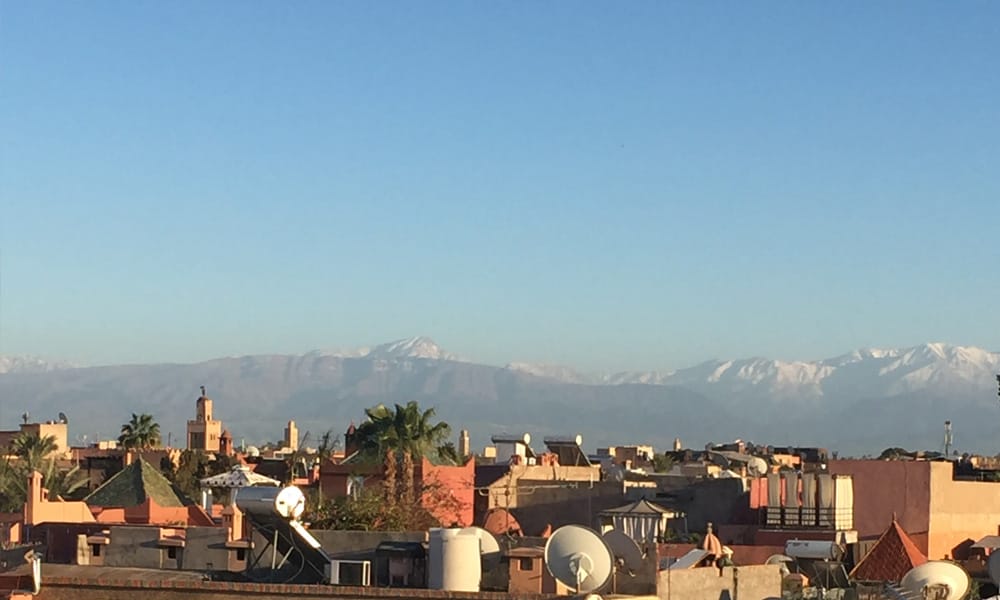 Day 2 – Exploring Marrakesh
Before breakfast we greet the rising sun with a yoga lesson on our Riad's roof. Afterwards we throw ourselves enthusiastically into the bustling Medina. The narrow streets with their countless traders and shops are busy and slightly chaotic, but we manage to navigate them safely with the help of our local guide, most spectacular on bicycles. Diving deep into this world we experience Moroccan culture at first hand.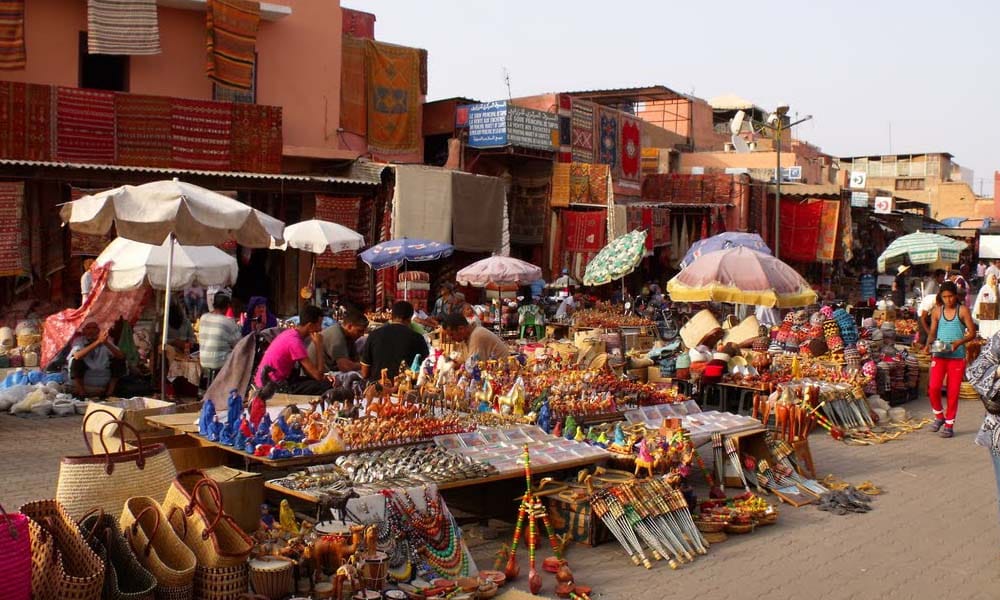 Day 3 – Oasis
We're leaving bright and early and travel to our ecolodge in Agdz. What a contrast to the city! A green oasis with pool, palm trees, and peacocks, between them the Moroccan style lodges with lots of wood and warm colors – it's magnificent. We relax, go for a swim and admire the sunset at dinner – naturally from the roof.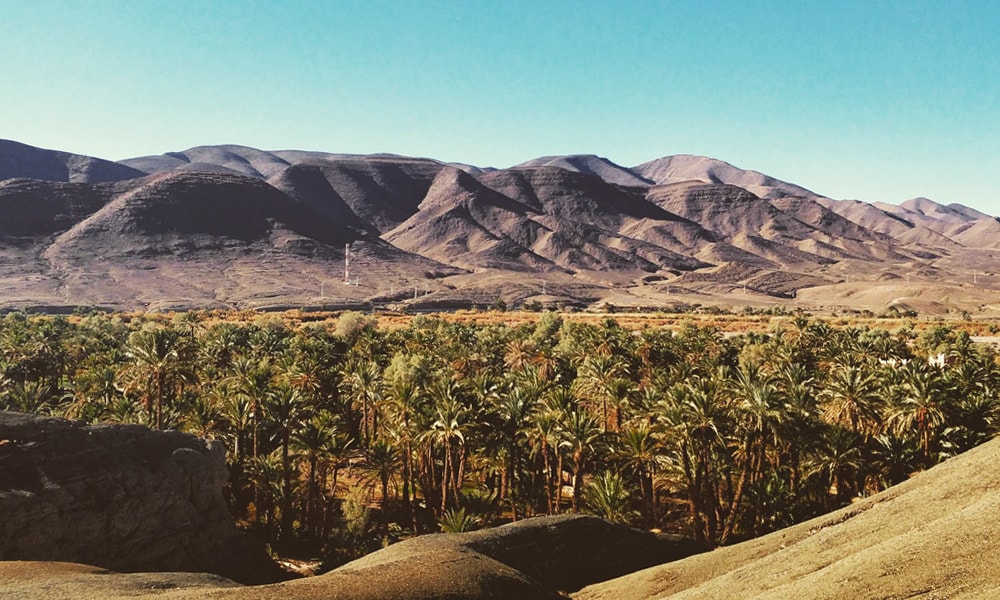 Day 4 – To Merzouga
Following a morning yoga session and breakfast we hop on our minibus heading for Merzouga, a small town on the edge of the Sahara Desert.
We continue through the valley of roses and stop for lunch. A few more hours and we've reached our accommodation in Merzouga. At Kasbah Takoit we are treated to a welcome tea, then move onto our rooms and recover from a long day of traveling at an evening yoga session on the roof with a stunning view over Erg Chebbi's sand dunes. A sublime Tajine for dinner and we crawl into our beds.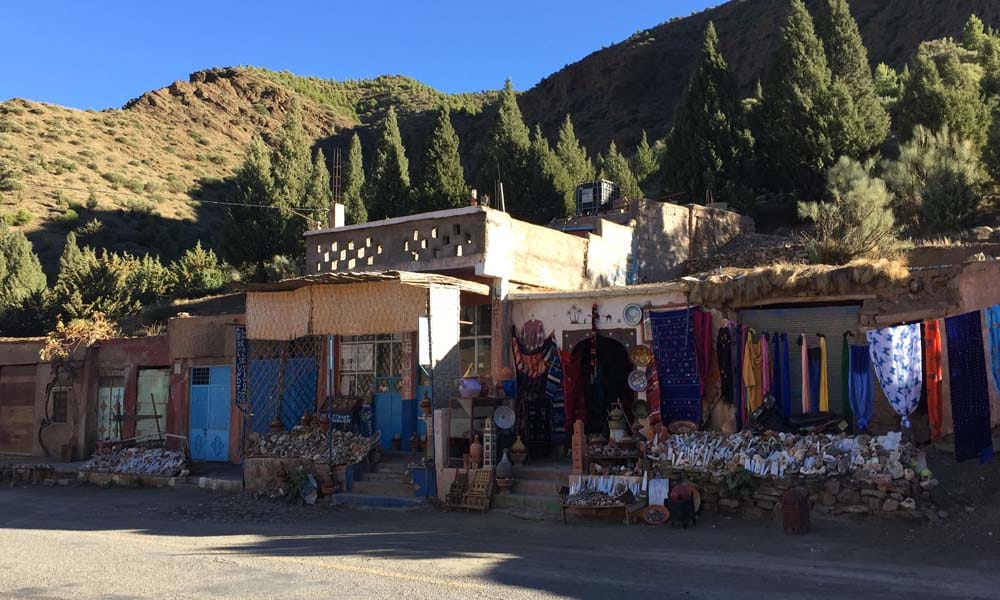 Day 5 – Into the Desert
We begin the day at half past seven with yoga, breakfast, and coffee on the roof overlooking the desert. Then we freshen up and pack our desert gear. Before we mount our camels, though, we pay a visit to Yidir's family for a chat over Berber pizza and tea.
For 2 hours our little caravan ventures into Erg Chebbi until we reach our camp – fortunately without seasickness from the ride. It's exactly how I pictured it: surrounded by sand dunes our Berber tents are built into giant old tree.
At night we have an outdoor yoga session amid the great dunes beneath the seemingly endless sky. Oh, the sky: deep blue during the day, at night glistening and beaming so brightly. Hard to imagine in Europe, where the light of the cities outshines the stars!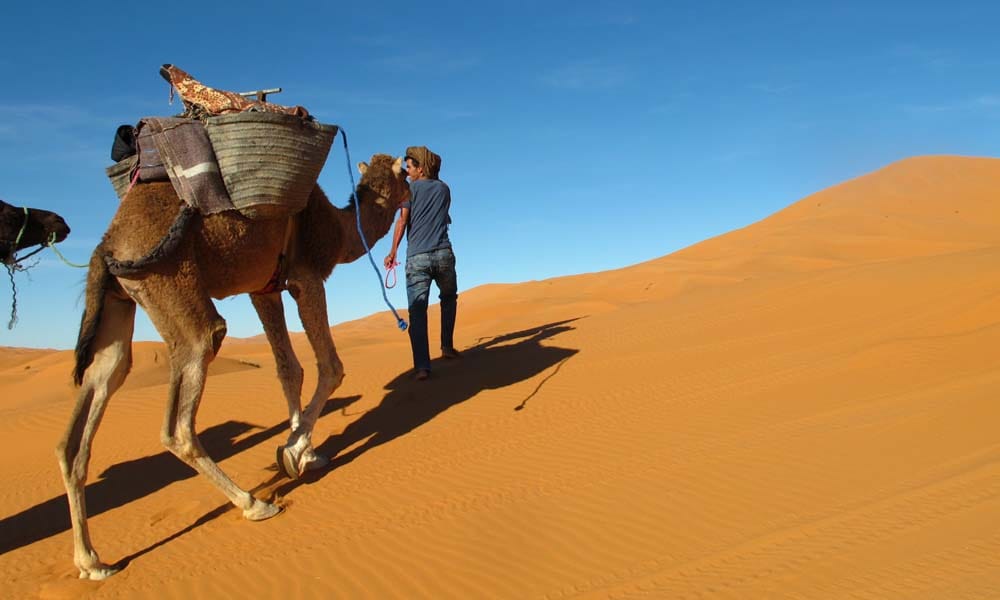 Day 6 – Finding Ourselves
Today we're sleeping in – our morning yoga session doesn't start until 9 am. After breakfast Jutta is offering an optional gestalt therapy session that I decide to join. I wonder if there is a place in the world better suited to finding oneself than the desert.
There's nothing on the schedule in the afternoon, so we explore the area around the camp, climb dunes, and take pictures. Behind the first ridge I am on my own and I enjoy a fascinating silence.
Another yoga session awaits in the evening – heaven!
We've got guests joining us for dinner: Ahmed and Adil have brought drums, a guitar, and a load of stories – add to that a great meal and Moroccan wine and you've got an unforgettable Berber evening in the desert.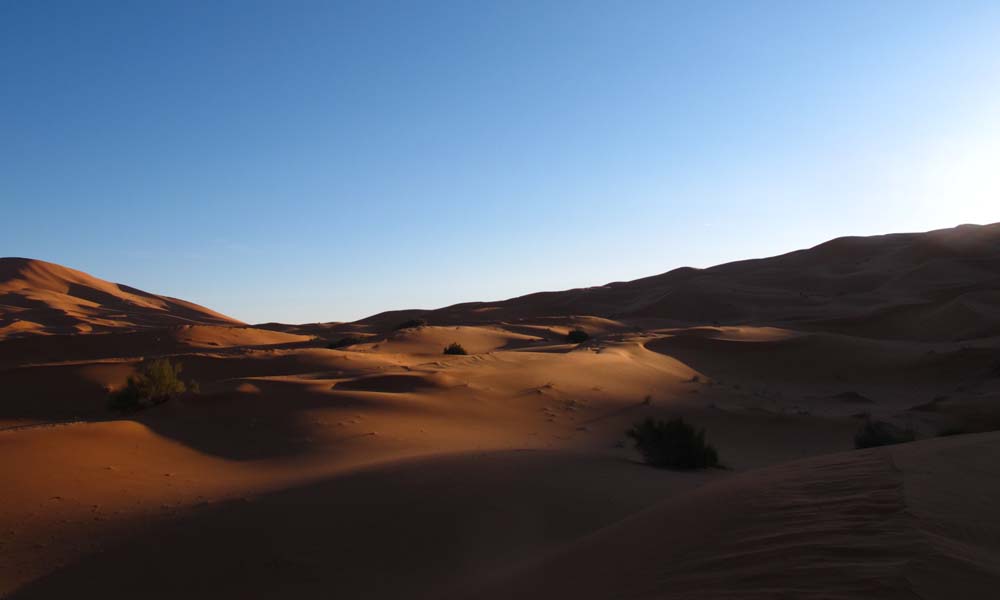 Day 7 – Back to Merzouga
Today not camels but jeeps are carrying us back to Merzouga. Once again we move into our rooms at the hotel and enjoy the perks of civilization: showers and wifi.
Before dinner we are calming our minds with another inspiring yoga session. In the evening we're sitting around a bonfire reminiscing on the past two days in Erg Chebbi – our desert experience is still very much on our minds.
Day 8 – Back to Marrakesh
It´s a long drive back to Marrakech so we get up early having breaksfast and make ourselves comfortable on the minibus. Along the way we are stopping at Aït Ben Haddou for lunch. Fantastic views and delicous Moroccan food give us new energy.
Day 9 – Farewell Dinner in Marrakesh
We split up: half of us have opted for wellness in a Hammam, the other half still wants more Marrakesh and embarks on a tour through the city's old town. Back at the hotel we assemble on the roof for dinner after an evening yoga session. There is a bit of melancholy when, over a great meal and Moroccan wine, we look back at our travels. More than a 1000 kilometers we have covered in Morocco, from the metropolis that is Marrakesh across mountain passes, through towns and villages into the seclusion of our desert camp. We have met locals and expats who shared their meals and stories with us, experienced yoga under the African sun, on rooftops, and in the desert – it's been so much, yet it all went by too quickly.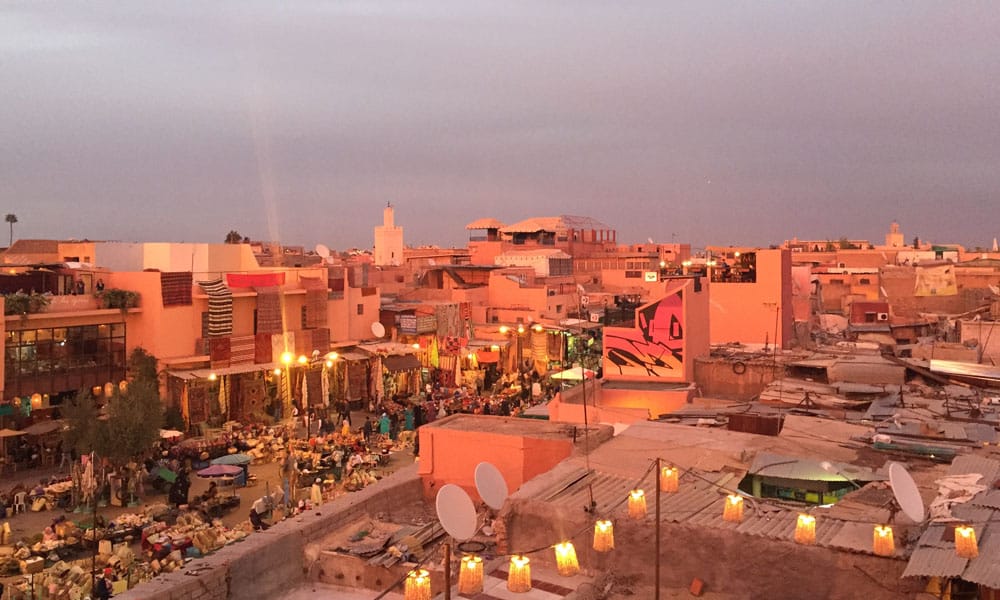 Day 10 – Departure
Following our final yoga session together on Riad Magi's roof and the subsequent breakfast it is time to say our farewells. We hug each other, promise to stay in touch, and then we're off to the airport.
You also want to join us for a Desert Retreat to Morocco?