Just recently we wrote a blog article about the impressive, traditional craftsmanship of the Berber women in Morocco. The Covid-19 pandemic threatens, next to many other things, this craftsmanship for which Morocco is known worldwide. A project tries to counteract…
Berber carpets, silver jewelry, lamps and leather goods. All this is wanted by tourists who travel to the Moroccan kingdom. For its traditional craftsmanship Morocco is world-famous.
The borders of Morocco were closed for tourists from mid-March until the beginning of September. The result is fatal: The Moroccan craftsmanship has lost 95 percent of its income. Many craftsmen are fearing for their economic survival, because they're highly dependent on tourists. Ever since their absence the shops of the craftsmen have stayed closed.
The Moroccan craftsmanship is a very important economic sector of Morocco. Two million Employees account for 7 percent of the gross domestic product with an export turnover of 91 million Euros. But not this year. The pandemic hit Morocco, a country that is highly dependent on tourism, very hard.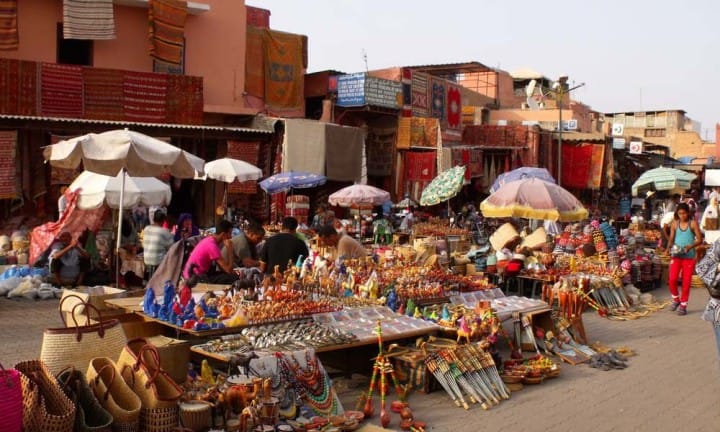 Two business women from Marrakech want to help. Their idea: the project #savethemedina. Especially Marrakech and its inhabitants are highly dependent on tourism, but let down by the government. In Marrakech every 4th person is employed in tourism and income created by tourism accounts for 30 percent of the gross domestic product of the city. With the project #savethemedina the women want to counteract the crisis and support the Moroccan craftsmanship.
Their thought was simple: They went from door to door and asked the residents for Moroccan craftsmanship. They then professionally photographed the collected items – carpets, lamps, ceramic tableware – and sold them online. The turnover returned to the residents.
Under the #savethemedina there are many Moroccan treasures to be found, which have been sold all over the world already. The two women don't earn anything doing that. They don't want that either, they rather want to give something back to the Moroccan craftsmanship. Because they have been equipping their well-running boutiques with crafts for years.
We think: definitely worth supporting. ❤
(Source: tagesschau.de)