I'm looking back on 5 years NOSADE, on around 1,000 welcomed guest and hundreds of yoga trips & desert tours we've been handling. And there must have been hundreds of times when I asked myself why on earth I'm doing all this? What I'm doing here? Hundreds of times I got answers.
Why am I fascinated by a country where men and women wear shoes that are mostly too small? Some kind of old rubber shoes usually, flip flops the men, swimming footwear for the women, for sure with floral patterns or glitter and in violet or pink though.
What can I get from a country where in souks and shops everywhere plastic nightgowns are sold to eager and fashionable Moroccan women as if they weren't a cardinal fashion sin but indeed a hot item in danger of being sold out tomorrow?
Why do I want to live and work in a country where any and all decisions are exclusively taken at the very last second, where there are excuses and winding explanations for everything? In a country where everyone seems to be waiting for something that never arrives? Where everything is "mashi mushkil", no Problem. Problems? There aren't any in Morocco. Apart from real poverty, meaning homeless life on the streets without family support.
High unemployment, a high rate of undeclared work, corruption, trash everywhere, miserable education standards. Not very pleasant, but no serious problems that would encourage the people to become proactive and rethink, reflect, or question.
Why do I want to integrate into a society in which the men spent hours discussing the latest news in cafes, while women – and unfortunately sometimes even children – have to work, be it at home or in businesses? The young, most of whom work in tourism or retail, having taught themselves 4 foreign languages and earning no more than 50 Dirhams (about €4.70) working illegally, naturally support their elders financially.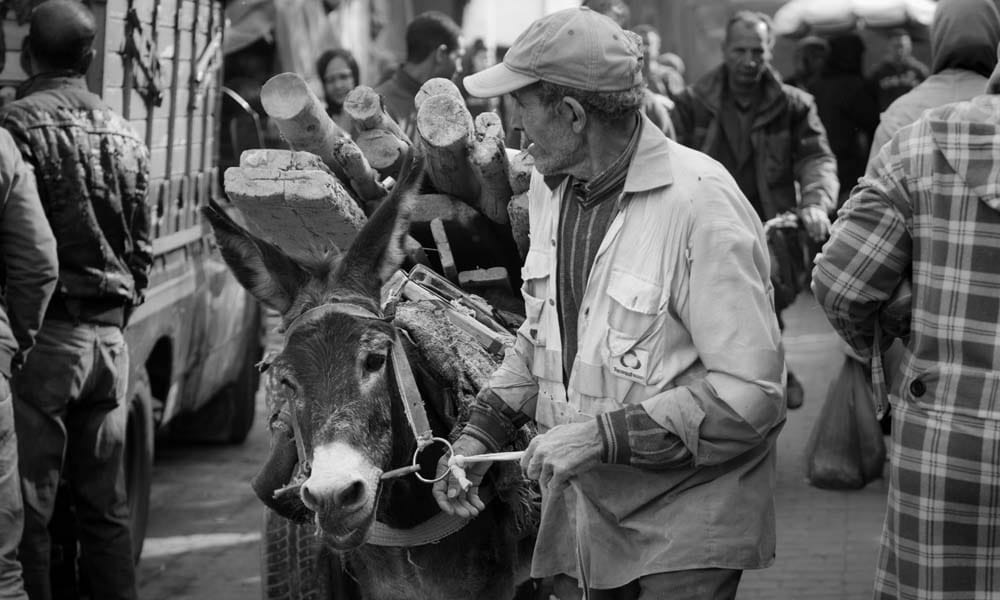 As a European woman, why would I want to assert myself in a society in which not one day passes without me getting hit on, getting marriage proposals and demonstrations of love by complete strangers, and in a society that is thus fulfilling hardly any bad reputation Westerners have in mind when thinking about an islamic country.
Why am I fascinated by Morocco?
Anything is possible in Morocco. Anything. Everybody is free. Nowhere have I ever felt more freedom both within myself and others than in Morocco. There are the contrasts. The country is tiny and yet seems infinite. The women are veiled and – both surprisingly and fortunately – often appear freer, happier, busier, louder, and more balanced than anywhere else. It's the sense of community and cohesion among friends and within families. It's the surprises, the unexpected events that prevent everyday life from ever getting boring.
There are such high levels of flexibility, forgiveness, openness, patience, and understanding that are demanded of me and thus open my heart and spirit every day. No other place is as inspiring for me. No other place has repulsed and then embraced me again at such a high frequency as Morocco. Morocco humbles me, allows me to critically challenge my quirks and sensitivities, Morocco allows me to adopt a more neutral and less pretentious point of view.
Morocco has taught me what it means for people to "live in the moment". Not yesterday, not tomorrow. Don't become hard, don't just consume, don't just want and demand, but thank and be grateful, both as a free individual and as part of society.
During our travels I experienced that it is this that draws the curious to Morocco – most of all the yogis! Sure it is also the magic: the charm of the orient that many expect – that they have read or heard about. With the magic comes the aspects that seem different or strange to us, the unknown, the adventure, the exotic feeling.
The main part are the contrasts of this country though: they can push travelers to their limits, can demand openness both in spirit and heart, neutrality, flexibility, acceptance, attention, and – at the same time – humility.
People are often flabbergasted when I tell them that NOSADE is mainly organizing yoga trips to Morocco. "Yoga, in Morocco? It's all haywire there, isn't it? It smells badly, everything is filthy and noisy and then all the veiled women and horny and abusive men? Does Islam tolerate that? Is it safe there?" Slightly amused but from the bottom of my heart I will usually reply asking if that isn't exactly what the yoga wisdom that the instructor teaches in our calm and fancy yoga studio during meditation, Pranayama etc., is all about. Aren't those the ideas that seem to have so little application in our comfortable, fast, alleged safe and well-equipped Western World? Aspects that may sound desirable and promising, but add no value to society and thus, when reached, will not bring acclaim?
On a daily basis, these "wisdoms" are naturally filled with a different meaning, a different value that lets them become palpable and experienceable here in Morocco. People find a different approach. Simply by being here, through participation in Moroccan life, an experience we try to provide our clients with in the most authentic fashion, people are enabled to find space and inspiration for a rewarding withdrawal into the self.
I am looking back on a time since the founding of NOSADE that was educational for me. A time that has taught me to improvise, enabled me to laugh even when I just wanted to cry. A time that has made me both more determined and humbler.
Most of all, however, I am looking back at a time full of inspiration and happiness, a time full of wonderful encounters with unforgettable people. A time in which I found a lot of support from my great team, both in Morocco & Germany, from friends and the people I trust the most, a time that encouraged me in failure and enabled me to overcome obstacles and challenges.
I am thoroughly grateful for these experiences and looking forward to the coming year with all it's upcoming changes especially within next year, new chances, hoping it will continue to bear the fruits and flowers of my rampant Moroccan inspirations.
© Anica Alla for NOSADE 2019