Following the article "PIKALA city bike tour in Marrakesh – sight-seeing off beaten tracks & active support" of April 24 th, I met with Cantal Bakker, a young Dutch woman who is the founder of PIKALA, to get to know and understand the project, that aims to create a more healthy and inclusive society through bikes.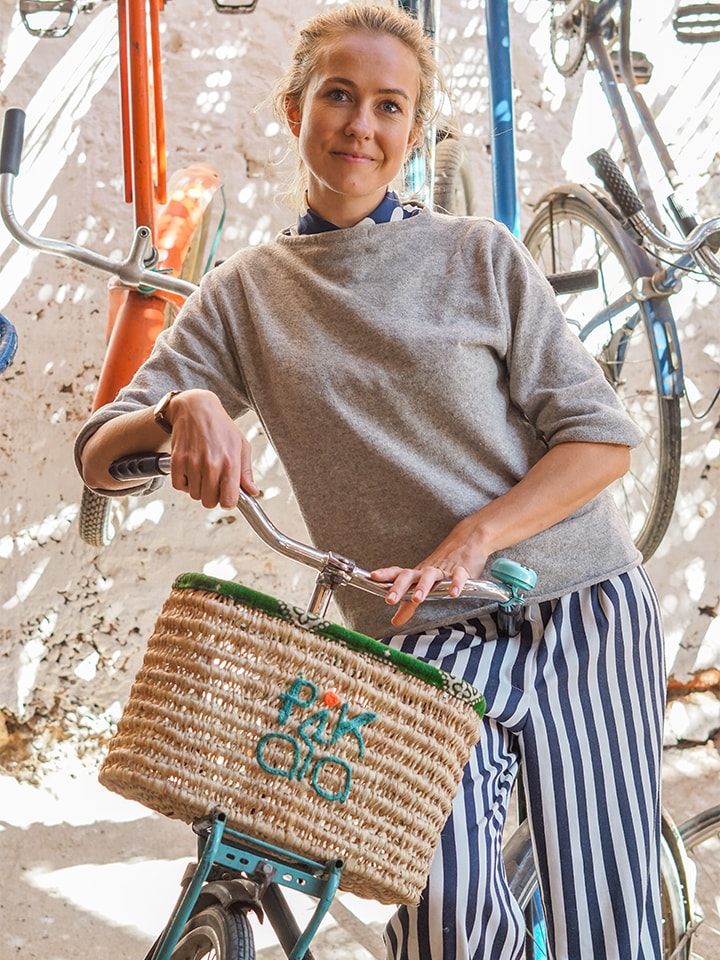 In the middle of the historical city centre of Marrakech you will find the spacious bicycle workshop where local youth is trained in mechanics and where tourists of Marrakech can join different bicycle tours guided by local trained Moroccan youth.
PIKALA tries to connect environmental issues with social challenges of the country. Furthermore, it works towards a financial sustainable project.
Lena: Could you explain the project PIKALA? How did it start?
Cantal: PIKALA is a non-profit organization to promote bicycle use in Morocco. We use the bicycle as a tool to create education, provide jobs and to find solutions for environmental- and mobility issues. I came to Marrakech for the first time in the end of 2014 with two friends and my boyfriend. I loved the city straight away but also felt very intimidated and overwhelmed by it.
After a few days I was really curious to discover the city by bike, to see what I will find outside the historical city walls, away from tourism. I wanted to get to know the people of the city and interact with them. That's why me and my boyfriend Erik decided to "rent" a bike from a local since there was no official bike rental in the city.
As soon as we were cycling, the people of Marrakech started to interact with us, and we eventually weren't seen as tourists anymore. We cycled all day and discovered many different neighborhoods. Finally, I felt the freedom, I have been longing for during my whole time in Marrakech. Finally, I wasn't only limited to touristic areas.
But during my stroll I also realized that Marrakech is facing many problems: a lot of pollution through all the motorcycles in the Medina and we passed many youngsters that only hung out on the streets, not doing anything. And there I saw an enormous potential: What if I could start a bike project, that gives tourist a unique and different experience and I could use the money to provide for locals. Furthermore, bikes don't have a good reputation in Morocco. It signifies poverty. There I saw another potential for change. That's how PIKALA started.
When I went back to the Netherlands, I sticked to the idea, worked on a business plan during the whole year of 2015 and eventually came back to Marrakech on January 1st 2016 to start the project.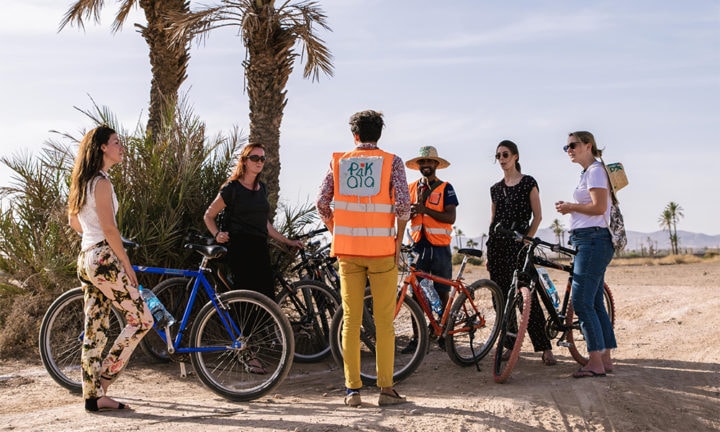 Lena: That sounds really brave. How did it first go when you came to Morocco?
Cantal: I literally had no connection to Morocco. I was only on vacation in Marrakech for one week. But I also thought to myself "if I want to do something crazy, now is the time". What is the worst that could happen? It doesn't work out and I have to go back to the Netherlands – so what?
I had this big motivation inside of me to do it. I told as many people as possible about my idea. And whenever someone told me, that it sounds ridiculous, my ambition grew even bigger and I was eager to prove people wrong.
In 2015 when I was still in the Netherlands I firstly did a lot of research about Morocco, about tourism in Morocco and about the culture. I even learned how to fix a bike. I knew that I wanted to create a sustainable tourism project from which locals can benefit. So, my plan was to set up an education workshop on the one hand, where Moroccans learn to fix bikes, and a bicycle rental with Moroccan tour guides on the other hand. My boyfriend was a big help during this time. He helped me to set up a business plan, since he has some business knowledge.
When I then first came back to Marrakech in 2016 I brought my own bicycle from Holland and in my mind a strong conviction to realize this idea. I tried to talk to as many people as possible to explain my idea. Eventually I was able to gain foothold.
Today PIKALA receives support from many different sides. The Tui Care foundation finances a big part of the project and even the Dutch embassy donates goods and money.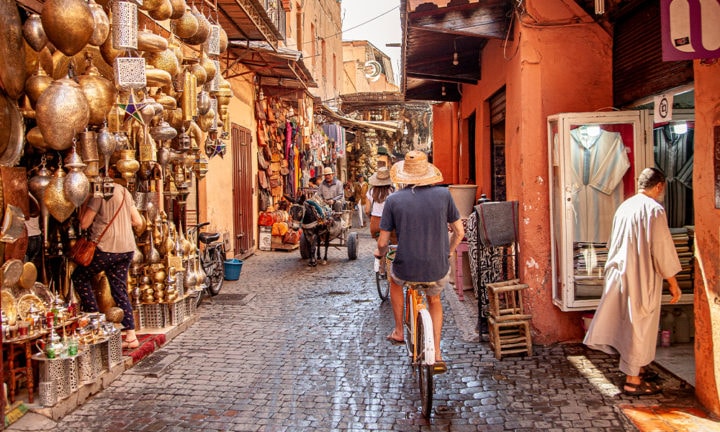 Lena: What makes PIKALA stand out?
Cantal: PIKALA is a very positive project. We create movement: People move, learn and work. What is also very important is social inclusion. I see these as very powerful ingredients that will hopefully create long lasting positive changes.
Also, PIKALA is a sustainable project. We do training, education and therefore do something good for the environment. We are a platform for youth to start to work.
PIKALA is a place where tourists and locals really interact with each other. That is very special.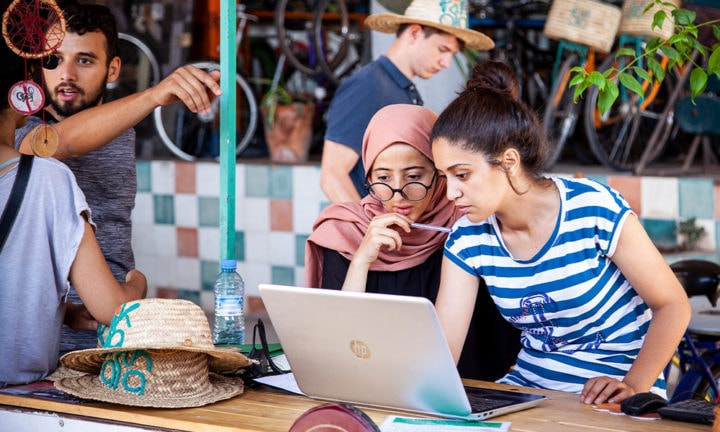 Lena: Have you seen any change since you started the Project?
Cantal: First, I had no idea where I was going. As I mentioned before I had no connection to Morocco, didn't know a lot about the culture and didn't speak the language. So, when I first started off I did face many, many, many cultural differences I wasn't aware off before. Which brought me problems but also beautiful new insights.
But these days, through many talks and discussions with my team, shared values got implemented and that has helped. The project is still an ongoing journey, though. The idea is growing on a daily base and I see more and more potential on the environmental side and also on the community side.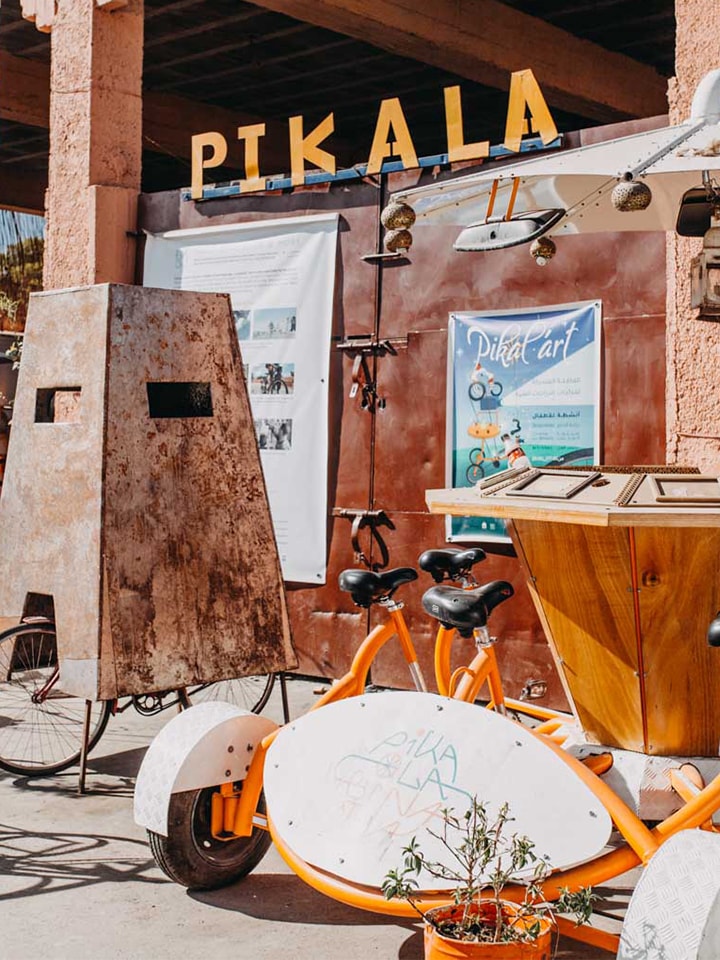 Lena: What makes you most happy about the project these days?
Cantal: I feel very thrilled when I walk through the PIKALA space. I can smell the food from the kitchen, that our cook Hanan makes for everybody, discussions are happening in the office, I see students at the workshop who are being taught on how to fix the bikes, tourists at the reception desk being received by our young bicycle guides. I see the dogs running around with the kids of the neighborhood.
Everything merges together: Learning, working and sharing: I love it!