Marrakech – a city where there is always something going on. Which is bustling, lively and sometimes very chaotic. There is a great, surprising contrast to that – to be found in Marrakech's beautiful gardens: they show a completely different side of the otherwise restless city. When you visit these green oases, you can immediately feel peace and deceleration; the gardens are a treat for the eyes and all other senses. For those seeking peace and quiet, for every plant, nature and beauty lover, for those looking for inspiration: a must for every stay in Marrakech.
We would like to introduce you to our top 4 gardens in Marrakech that you should definitely not miss to visit:
1. The garden of La Mamounia
La Mamounia Garden is a hidden gem in Marrakech. Not many tourists know that you can enter the garden of the famous luxury hotel La Mamounia for free without having to be a guest of the hotel. The extensive garden area, which is more than eight hectares in size, offers a great view towards the Medina, the Koutubia Mosque and, with good visibility, even to the Atlas Mountains. The park is stocked with hundreds of olive trees, cacti, orange and lemon trees and much more. This magical place invites you to long walks!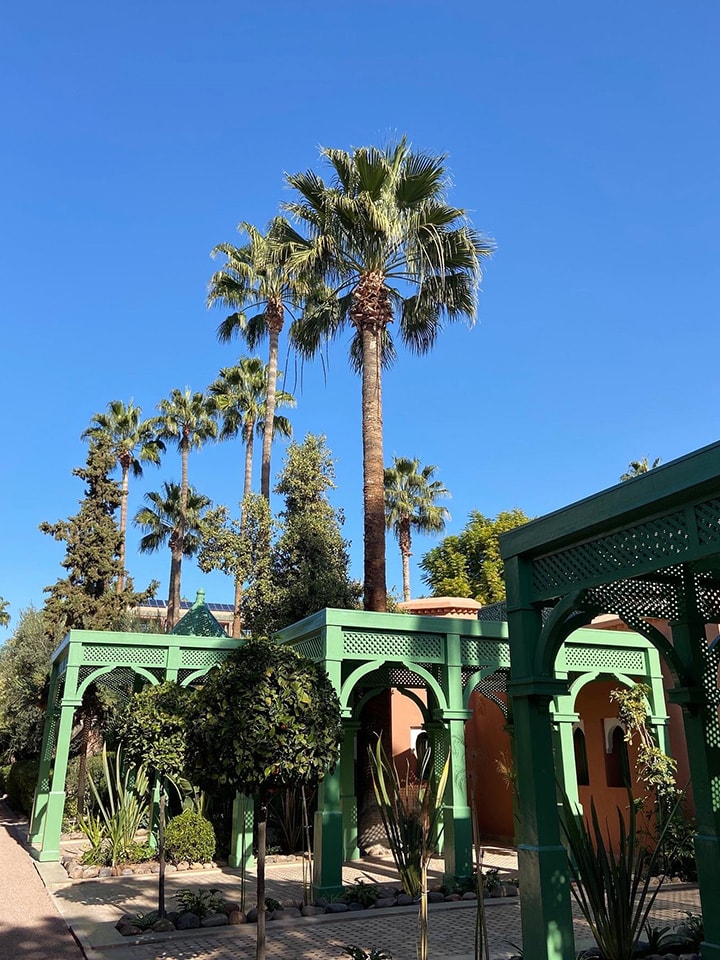 2. The Secret Garden / Le Jardin Secret
In the middle of the old town of Marrakech, this garden hidden behind a large double door surprises as a green idyll that looks back on 400 years of history under the Saadian dynasty. It is a wonderful place to stroll along beautifully tiled paths and enjoy the garden as a place of retreat. The garden is meticulously laid out and follows strict geometrical rules, which for Muslims are a metaphor of heaven and indicate the supremacy of man over wild nature.
3. The Menara Gardens
The Menara Gardens are located about 3 km from the Medina. This historic olive grove is part of the UNESCO World Heritage and still gets its water from the Atlas Mountains around 40 km away. The Menara Gardens are a place of tranquility where one can escape the hustle and bustle of Marrakech and enjoy the view of extensive rows of olive trees. Above all, the beautiful stone pavilion, behind which you can see the snow-covered peaks of the Atlas Mountains on a clear day, offers a popular photo motif. Locals love the olive grove and come to the gardens for picnics during weekends.
4. Le Jardin Majorelle
The Jardin Majorelle is by far the most famous garden in Marrakech. Founded in 1923 by Jacques Majorelle and used as an atelier, it was acquired in 1980 by the famous fashion designer Yves Saint Laurent and his partner Pierre Bergé after years of neglect and then restored to its original glory. Since then, hundreds of thousands of visitors have flocked to the garden every year and enjoy the majestic succulents, numerous water pools and the famous cobalt blue pavilion. A visit to the Musée Berbère next door is also worthwhile. Next to the garden there is a large Yves Saint Laurent museum which displays several thousand garments and drawings from Yves Saint Laurent's personal collection.