HOW THAT?
Every journey begins with an idea. And although not yet invented, most of us are fascinated by the phantasy of a flying carpet, cruising around in a magic Arabic world. Aren't we?
Therefore NOSADE and Moustaqbel Amsterdam are cordially inviting you and all the ones who are interested in Yoga and Moroccan culture to enjoy a heart opening Yoga session and a heart warming evening at Moustaqbel Amsterdam, with Morocco flair!
Be there with us, Friday, 23 Nov 2018 at 7pm.
Moustaqbel is a brand new opened venue, located on one of the most beautiful canals of Amsterdam, de Bloemgracht, in De Jordaan. Surrounded by Moroccan arts and handicraft – and for our event exclusively equipped with carpets and poufs by The Weavery – the hosts are sharing their love for Morocco and Moroccan arts, culture and travelling as well as their love for Yoga with you.
NOSADE Yoga teacher Katrin Witt will guide through a 60 minutes powerful and balancing Vinyasa Flow session coming along with an exclusive DJ Set inspired by Moroccan sounds and vibes. Following by a calming and grounding 30 minutes Yoga Nidra Session by Khadjia Maros.
There will be offered fresh mint tea and Moroccan snacks after the Yoga session – just as Moroccan hospitality requires.
Take a ride with us on your phantasy flying carpet! We look forward to see you on the mat and have a chat with you about wonderful Morocco.
WHO'S BEHIND?
Founded in 2014 it's the heartfelt concern of NOSADE YOGA RETREATS & VENUES to share authentic and familial travel experiences in beautiful, ever fascinating Morocco. Being a family business it is NOSADE's intention to create a sustainable, valuable and yet preserving environment for the locals working with NOSADE – and individual, educational experiences for interested fellow travelers.
NOSADE-founder Anica Alla is caring about her social responsibility running her business in Morocco: she makes sure that the whole team gets reasonable salaries to improve their living conditions on-site as well as to preserve their environments and the nature by traveling consciously. "Also it is NOSADE's utmost concern to make a contribution to maintain and advance the rights of women in developing areas, especially in the south of the country", Anica Alla states her way of acting. "We are striving on our trips, to act as gently as possible and to travel in harmony with nature and culture – we contribute where we see a need for action and can add value," says the founder.
Nature conservation, fair paid work and education are playing a dominant role in the daily work.
NOSADE loves to create sustainable and valuable environments in Morocco – and this is where NOSADE and Moustaqbel are acting in concert.
The word Moustaqbel means 'future' in Moroccan Arabic 'Darija', what Moustaqbel Foundation is all about: The team behind initiator Hanneke Ouwehand-van Hooff is taking care about the future of girls in Morocco.
Moustaqbel Amsterdam is connected with the foundation of Dar Moustaqbel Marrakech, a home for Berber student girls from the remote villages in southern Morocco. It is quite a challenge for these girls to study at the University or at any other form of higher education. According to local custom, they are expected to simply stay in their villages, marry young and become mothers. Helping the girls to develop their talents is the mission and so all profits of Moustaqbel Amsterdam are going to the foundation of Riad Dar Moustaqbel Marrakech.
There are so many ways to support a project and the best is always to give what you love, so NOSADE helps the girls developing their talents on another level and teaches free yoga classes whenever it is possible.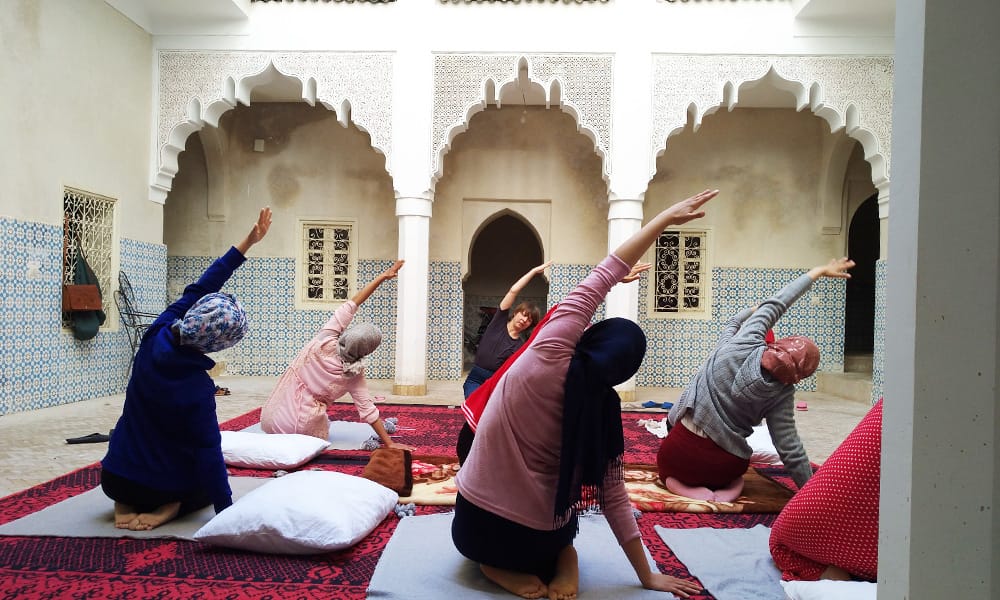 WHO'S WITH US?
"If you want to go fast, go alone. If you want to go far, go together." – Believing in these wise words from Africa, we have been teaming up with familial Morocco related businesses run by heart and share our ideas of creating sustainable value.
Another one of them is the wonderful project called The Weavery and the story of Bettina & Driss: Through many travels to Morocco, the both were naturally drawn to Moroccan artefacts. When they set up their bed and breakfast in Amsterdam, they returned to Marrakech to source authentic furnishings.
While doing so, the mother of Driss suggested to leave the busy souks of the city and return to Driss's birth village. There they started sourcing their carpets straight from the weavers and started creating rugs according to their own designs and needs. Soon there where plenty enough carpets in their Bed and Breakfast but they kept going and in the meanwhile there are plenty of lucky clients enjoying pieces of Morocco in their places in the shape of handmade carpets made from pure wool, dyed using mostly natural ingredients. So simply to get yourself an idea by joining our event or have a look upfront at their online shop.
Follow us on the facebook event and we will keep you posted or safe your ticket directly here.