NOSADE has been active for three years now. We're touring this beautiful country with our guests and help them find holistic physical and spiritual relaxation, energy, and strength through daily yoga practice.
Right from the outset there were several goals very close to founder Anica Herrmann's heart: to incorporate local Moroccans into the business, to train them, and to treat them fairly, thus enabling them to better their own living conditions as well as pursue their paths actively and autonomously. In particular, Anica strives to help the women of Morocco discover a healthy and confident lifestyle.
It seems an obvious idea to let the local populace participate in at least some of what we provide to our clients.
"Empowerement" is a big word, but every little devotion, every display of healthy movement, every opportunity to discover oneself is a step in this process. Yoga provides a great opportunity to promote exactly that – the practice of yoga is, after all, about applying oneself to perception, starting with your perception of your own body. In other words and without any esoteric sentiment: It's about developing a feeling for your own body and experiencing literal self-consciousness.
Grateful for the experiences gained from the practice of yoga, Anica and her team of instructors want to provide the people of Morocco in general and the women in particular, amongst others, with access to yoga. There are numerous projects that all deserve support. As a first step we have started to get involved with the following:
Riad Moustaqbel is a student dormitory for girls from remote areas of the country who are motivated to go to college or seek other additional professional training in Marrakesh. Within the protected and motivating environment of the Riad Mousraqbel the girls are enabled to fully concentrate on their education and their professional opportunities. The young women are supported and guided by house mistress Omama and a female chef and learn to take responsibility for themselves and their lives – not just in career terms, but also with regard to everyday life in the city.
Brains (and heart) behind the operation is Hanneke Ouwehand-Van Hooff, a positive, always smiling, and down-to-earth woman with living in both Marrakesh and Amsterdam. With Riad Moustaqbel Hanneke Ouwehand-Van Hooff wants to contribute to the struggle for equal opportunities in education for girls and boys from the Moroccan hinterland that is severely lacking in infrastructure. She manages to do so in such a charming, calm, friendly, and dedicated fashion, focused and from the bottom of her heart, that makes us want to contribute to her efforts.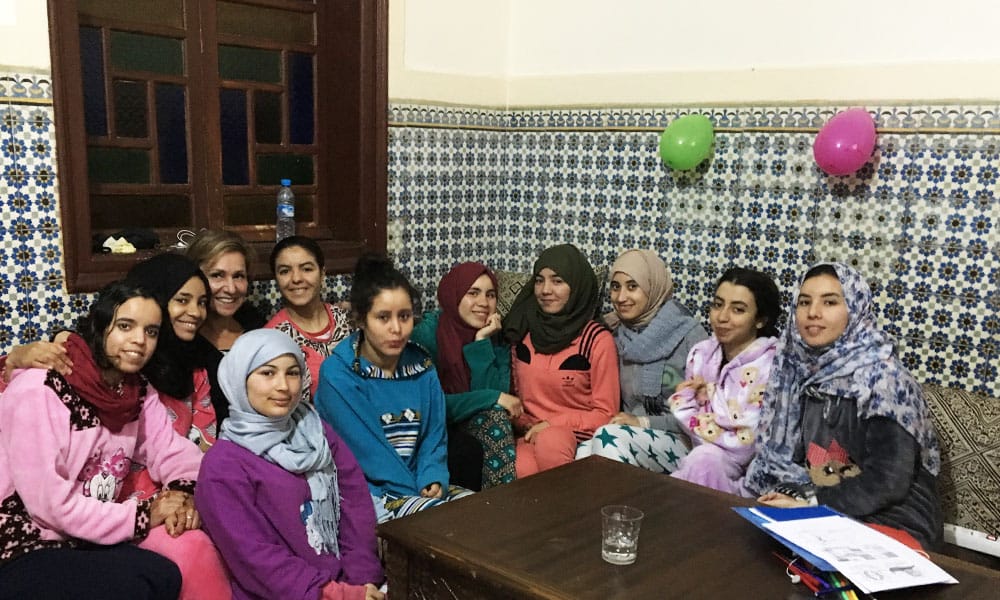 Hence NOSADE's team is providing the currently ten young women between the ages of 18 and 22 with regular free yoga classes. The founders of NOSADE and Riad Moustaqbel share a common approach: both intend to encourage girls and young women to take control of their own lives and their own lifestyles.
During the first couple of lessons it was hard for the girls to keep their composure rather than break down giggling – after all, this form of self-discovery is entirely alien to them. After their initial skepticism, however, they managed to get more and more engaged, to start trusting, to follow instructions, to breath, to relax their shoulders and to be more aware in their perception of their own bodies.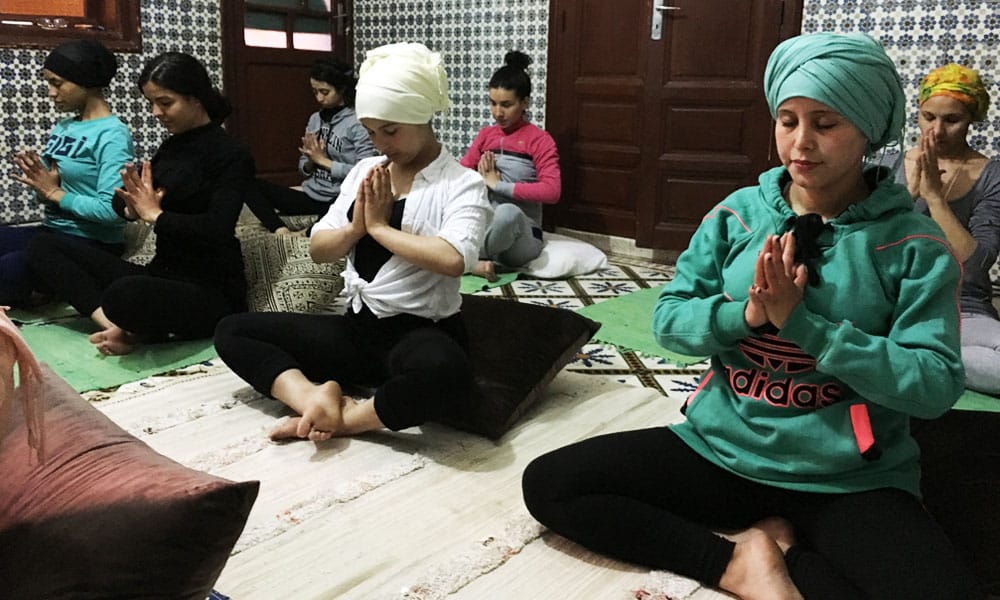 The first lesson broke the ice, when it was time to say farewell, the girls embraced our team and loudly proclaimed their interest in regular yoga practice. It is not just curiosity that they felt, but also a sense that yoga might be a great way to balance out their everyday learning stress. We are touched and inspired and are already looking forward to work with the girls again after the summer break. And there will be more! Soon the girls will be moving to a big Riad in the Medina that Hanneke Ouwehand-Van Hooff is currently restoring and expanding to provide space for 40 girls (and a lot of yoga mats on the beautiful roof terrace J).
Les Enfants Dar Bouidar:
Building Bridges to Life with Courageous Devotion
"At 10 am outside the KFC near Koutoubia Mosque!", were the instructions. We meet Hansjörg Huber, who greets us joyfully with his flashing eyes. Nowadays he's not working to make a living anymore, but for a good cause. As a 22 year old a visit to a children's village inspired him to start a similar project.
In Morocco there are the so-called abandoned children. Every year there are about 10,000 of them according to official statistics. The unofficial figures are in all likelihood significantly higher. Most of the children are abandoned immediately after birth. Wrapped in blankets, they are left outside police stations, hospitals, or mosques. Most of the time they are children of unwed mothers, as Moroccan society by and large does not accept children born out of wedlock.
In 2008 Hansjörg Huber and his wife Jeanette moved from Zurich to Marrakesh, and the two decided to open a children's village that would provide these kids with a home and bring a little bit of warmth, attention, and opportunity into their lives. In 2015 they opened the first village for the children of the Atlas mountains – Dar Bouidar, right at the foot of the mountains, roughly an hour's drive from Marrakesh. Nine additional villages are to follow.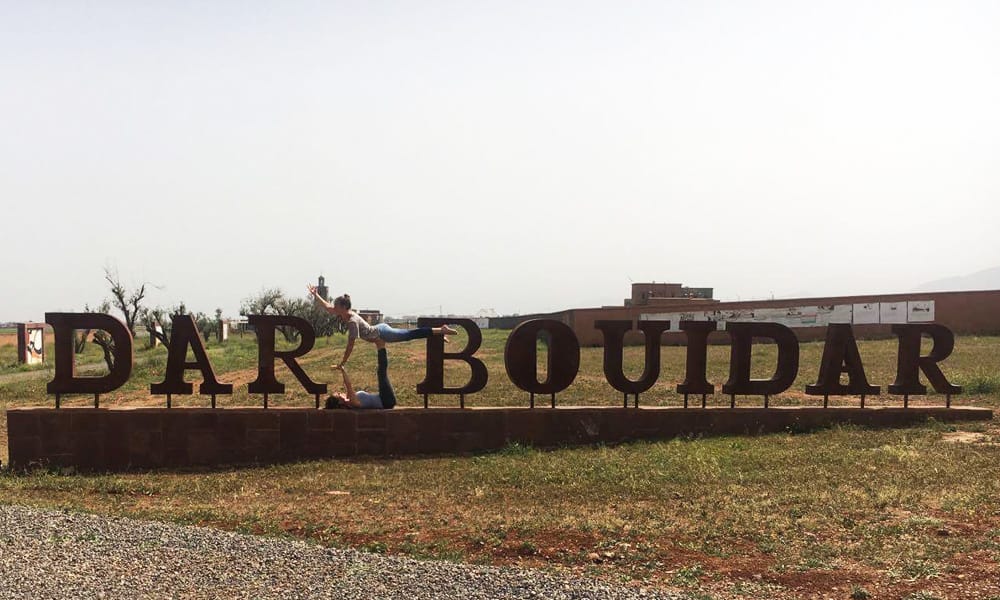 Within the village there is a painting titled "Fierte", meaning pride. To an extent that describes their approach to interaction and cooperation within the village: the children shall develop healthy pride and strength through "courageous devotion" as Hansjörg Huber calls it. That term might not be in the dictionary, but it's easy to understand what it means. With heart, friendship, and love the children are to be provided the chance for a life offering visions, dreams, and opportunities.
"Great idea", is our immediate response. In spite of all good intent, however, this is not an easy undertaking in a country where working for or with "children of shame" is not just a foreign concept, but indeed frowned upon by society.
Without a doubt we consider the project worthy of our support and since that support can manifest itself on many levels, we have decided to assist those who give so much themselves: the village's foster-moms who encounter significant skepticism in their own lives. That's why in April we started with a yoga session for 10 mothers who had never done yoga before. As joyous and happy as the session was, there were those rather sobering and touching moments when we put our hands on our hearts and the thumbs on the sternum that we realized that we can straighten ourselves physically and get into a position that is prouder, that offers more presence.
A great result for a first yoga lesson that taught us once again that every little contribution matters.
http://www.kinderdorf-marrakech.ch/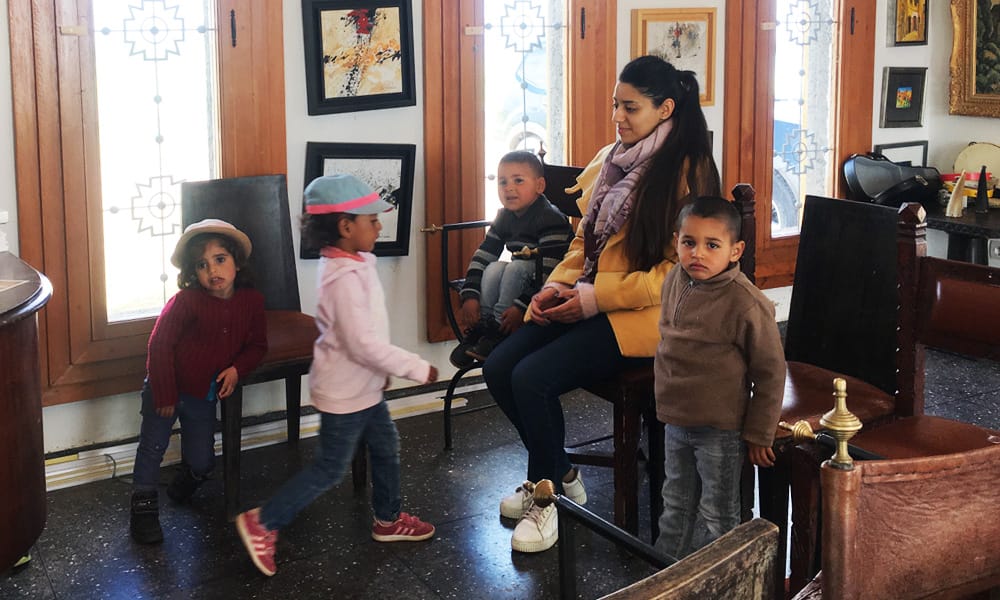 In addition to all the work for a good cause, NOSADE's particular concern is to provide our local team with additional chances and opportunities for their everyday lives by giving them on-the-job training that previously some could not pursue for lack of mostly financial means.
"Education provides strength and independence" is the slogan that we want to employ to show that education and a new approach are paths that are well worth exploring, paths that enable self-determination.
With our team we try to set an example to show that hope, new approaches, and faith in the future are necessary to find motivation, to take responsibility for our own lives and – in the end – to enjoy success: to be able to provide for oneself, to improve one's living conditions, to provide for a family, to be independent.
More on this topic in a future blog post to come soon.
On our trips we offer different ways of how to support the projects and our very own approach to empowerment through education. Join us in Morocco to learn more!