You're planning a trip to Marrakech and / or into the Sahara Desert and you desire authentic accommodation? Then we are exactly what you're looking for.

In addition to our group yoga retreats and individually customizable desert tours, we're also offering overnight stays at our NOSADE Venues (= accommodation).
Stay at our Riad in the center of Marrakech's historic Medina or choose our apartment in Merzouga, the gateway to the fantastic Sahara Desert.
INNER COURTYARD
The magnificent heart of our Riad in Marrakech. In the inner courtyard an urban jungle lush with plenty of green plants and delightful twittering of the birds await.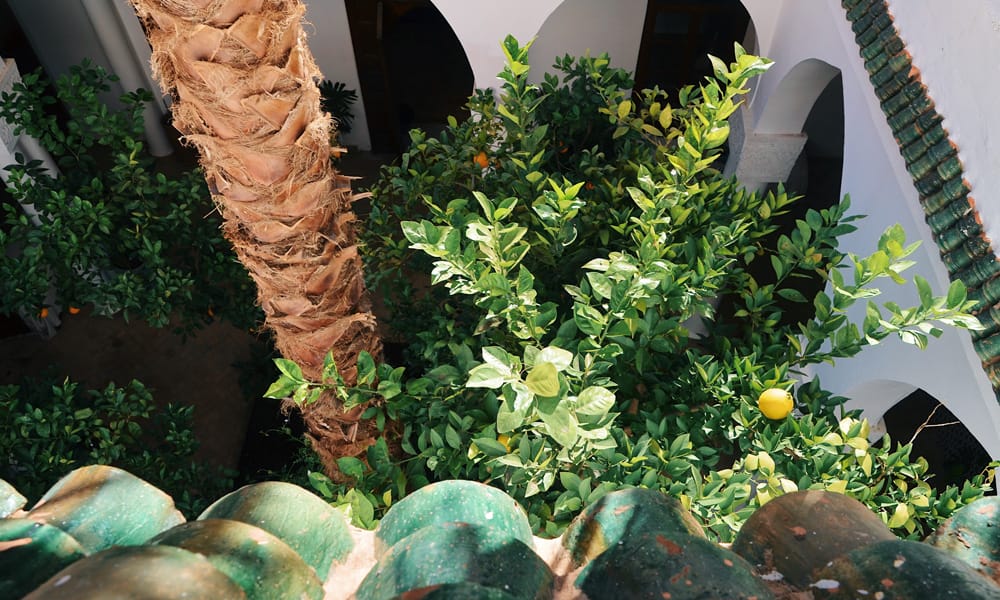 There are plenty of cozy seating options that allow our guests to take in the tranquility and aesthetics of our Riad.
MEDITATION ROOM
Our meditation room invites you to linger outside of meditation sessions. Get comfortable with a good book and a cup of Moroccan tea.
ROOMS
All our rooms contain luxurious mattresses and bedlinen. Look forward to heavenly times in our comfortable beds and dream of Arabian Nights. Additionally, every room features an en-suite bathroom, where towels, soap, body wash, and a hairdryer are provided.
SUITE SAHARA
Our Sahara Suite is the Riad's largest room, accommodating a small group of three adults or a family of up to four. Its oriental flair and carefully selected décor will enchant you.
ROOM ATLANTIC
Our mid-sized Room Atlantic accommodates two adults in separate twin beds or a single double bed. This room provides guests with a wonderful view of the garden.
ROOM JARDIN
Room Jardin is small and lovely. Perfect for solo travelers or couples. The large bed and the fantastic interior design invite you to dream.
ROOF TERRACE
Our wonderful large roof terrace is the ideal place to let a long day fade away at sunset. When the sun is slowly dipping below the horizon, our terrace becomes a magical place of tranquility and relaxation, bathed in a unique pastel pink. Or you could just enjoy your tea in the afternoon and chill, it's a perfect spot, either way.
HOSPITALITY
In our Riad, our housekeeper Zeyneb takes care of your breakfast every morning; upon request she will also prepare lunch and/or dinner. Zeyneb cooks traditional food that tastes great and is healthy. Looking after our environmental impact is of particular importance to us, which is why we choose not to use plastic within the house and employ a high-quality filtration system to clean our own water.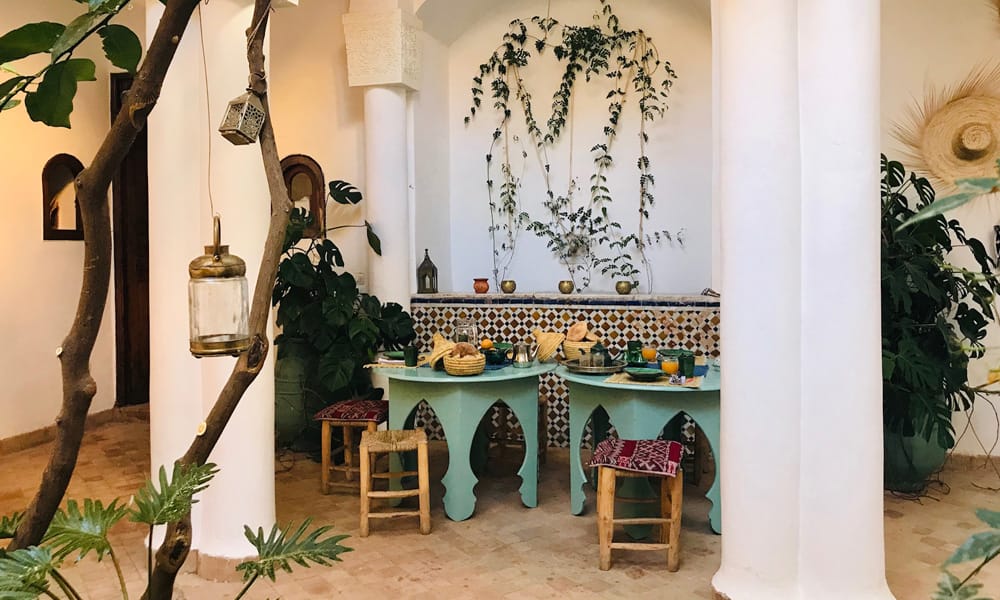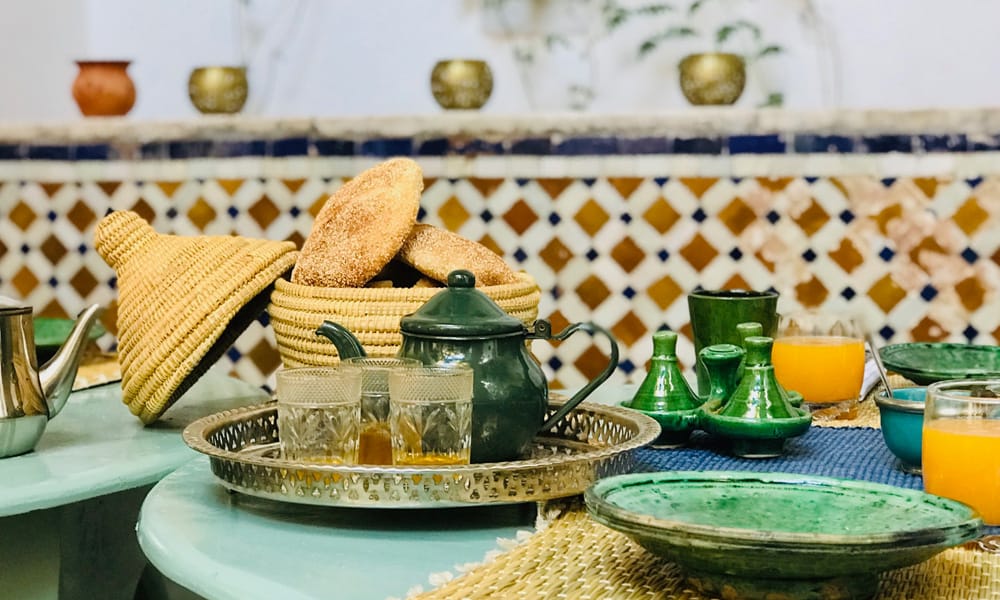 YOGA & MORE
As a guest at our Riad you can conveniently book additional yoga lessons, which will be conducted in an inspiring environment in the tranquility of our roof terrace, far from the city's turmoil. During our Urban Marrakech Yoga Retreats, all yoga sessions are conducted on the roof terrace, as well.
Furthermore, you have the opportunity to turn your stay at our Riad into a truly unforgettable experience with massages and Reiki treatments.
At the gates of the famous Sahara Desert you will be accommodated in our traditionally constructed apartment that features modern design in an atmosphere that is both familiar and private. Enjoy the secluded calmness and the view over Erg Chebbi's famous sand dunes.
BED
The comfortable queen-size bed offers enough space to indulge in your dreams. Relax and sleep like a queen or king in perfect tranquility.
SALON
The salon is lovingly decorated and offers a comfortable seating area for reading, breakfast, or just relaxation. Additionally, the seating area can be transformed into two single beds if you are traveling with friends or family.
BATHROOM
The luxury bathroom offers a lot of room and all the features you could want. We provide towels and soap. Please note that the desert, as one might suspect, is an arid region. Pressure in the water pipes may vary and very rarely there might not be running water. In such an event alternatives will be provided.
DESERT
Our apartment offers a direct view of the desert's magical dunes. Experience unforgettable dusk (or dawn) settings first hand, right in front of you. Plan a ride on camel-back to really experience the desert.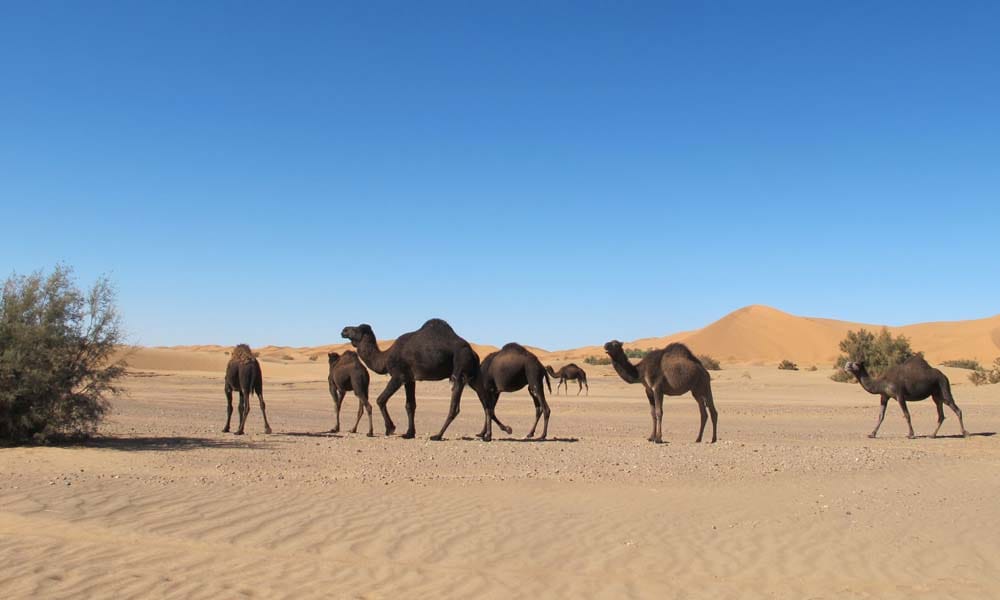 BERBER FAMILY
Our family's women will spoil you in Merzouga with their famous hospitality. You will be offered great traditional foods: homemade bread, lovingly prepared Couscous or Berber-Pizza, and their famous Berber-Whiskey: Moroccan tea.
NOSADE is looking forward to welcoming you in beautiful Morocco!