One of the best things about a vacation in Morocco? Definitely the food! So, it's no surprise that Marrakech has many fantastic cafes and restaurants that impress with both their food and atmosphere. Most of them are on rooftop terraces, where you can breathe fresh air and enjoy a great view of the whole city. The food options range from traditional Moroccan dishes like Tajine and Couscous to delicious salads and modern interpretations of various dishes. Combined with the vibrant atmosphere of Marrakech, every meal here is a real experience!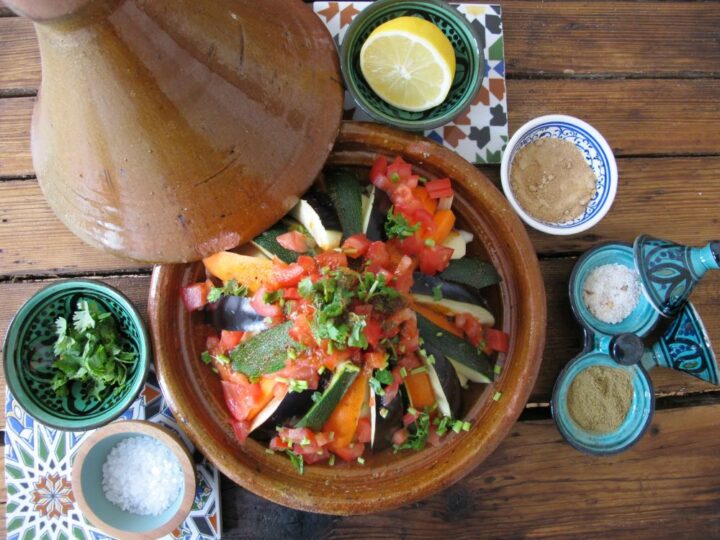 Here are our top cafes and restaurants in Marrakech that you should definitely try:
PIKALA Café
Located just a short walk from the NOSADE Riad, PIKALA Café is a bit hidden but has open-air seating on two floors. There are plenty of cozy seats where you can relax away from the hustle and bustle of the markets. The menu offers both small snacks and lunch options, including a large selection of vegetarian dishes. The homemade juices and daily changing cakes are particularly delicious!
Must-try: Orange – Ginger – Lemon Juice!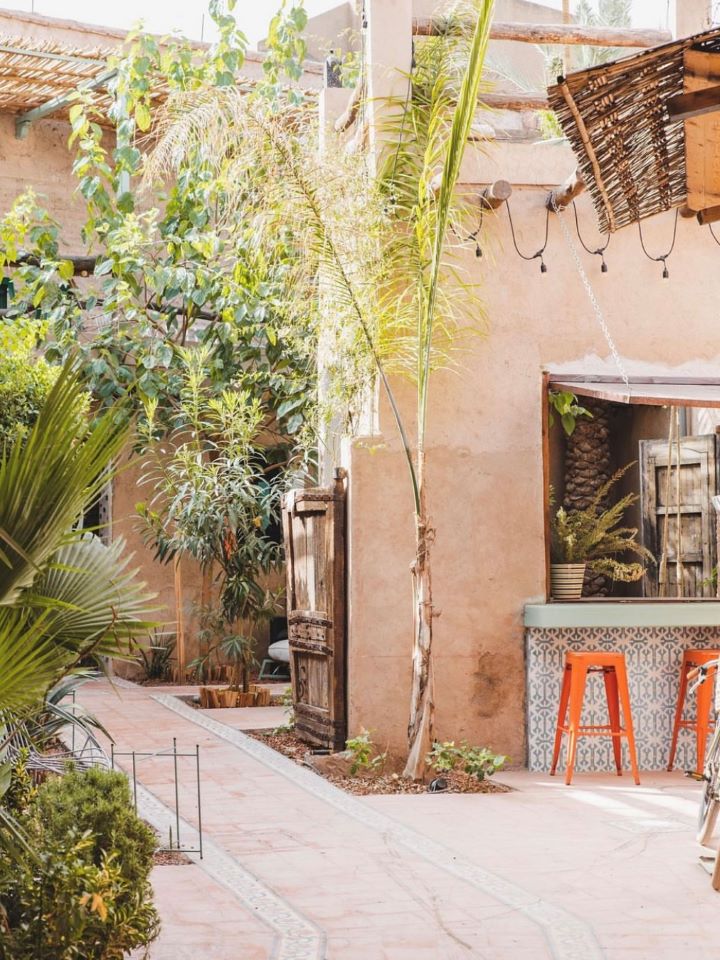 Naranj
Naranj is known for serving the best Lebanese food in Marrakech. They offer delicious wraps with falafel and hummus for lunch and a small but excellent menu for dinner. The menu includes options like vegetarian eggplant dishes, fish, meat, and oriental noodles. Don't forget to try their Moroccan tea and fantastic desserts. We love it so much that we regularly visit with our retreats, and everyone has loved the food! Highly recommended.
Must-try: Mezze Platter for 2 (also available vegetarian)
L'Mida
No matter what you order at L'Mida, it will taste amazing – guaranteed. This modern Moroccan restaurant offers a combination of classic Moroccan dishes like Tajine, Couscous, or Pastilla and creative new creations. You'll find items like "Berber Gnocchi" or even a burger on the menu. The desserts are also fantastic! However, the ambiance is the true highlight. If you can get a spot on the rooftop terrace, it's the ideal place for a sundowner with a mocktail. Everything is served in handmade ceramic dishes.
Must-try: Vegetarian Pastilla & Chocolate Cake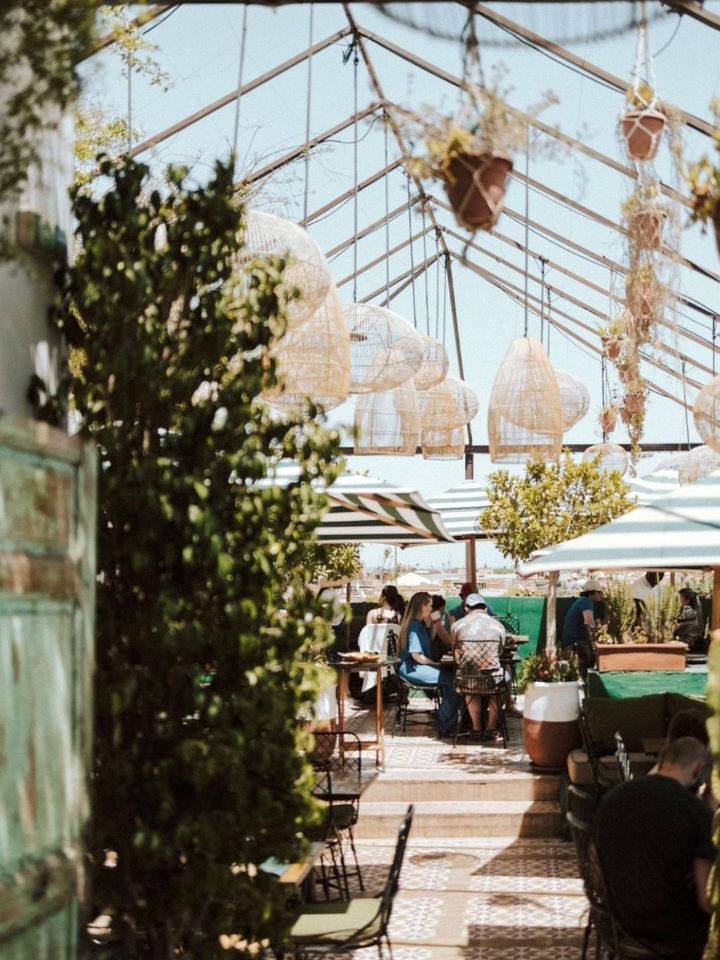 Café Clock
A bit away from the typical tourist crowds in Marrakech, Café Clock offers traditional Moroccan breakfast (Berber Eggs, Omelette) and delicious lunch & dinner options. The menu is extensive, with something for everyone, including vegetarians and vegans. Besides food, Café Clock also offers cooking and baking classes and various workshops on Moroccan culture. So, if you want to dive deeper into Moroccan culture and cuisine, this is the place to be!
Must-try: Smokey Zaalouk
NOMAD
NOMAD is one of our personal favorites. Actually, not just because of the food (though that's great too), but mainly because of its incredible rooftop terrace. You probably can't find a better spot for watching the sunset in Marrakech. With a view of the Koutoubia Mosque and listening to the call of the muezzin, you enjoy the delicious food at NOMAD the most.
Must-try: Saffron Date Cake (rich and very sweet but incredibly tasty)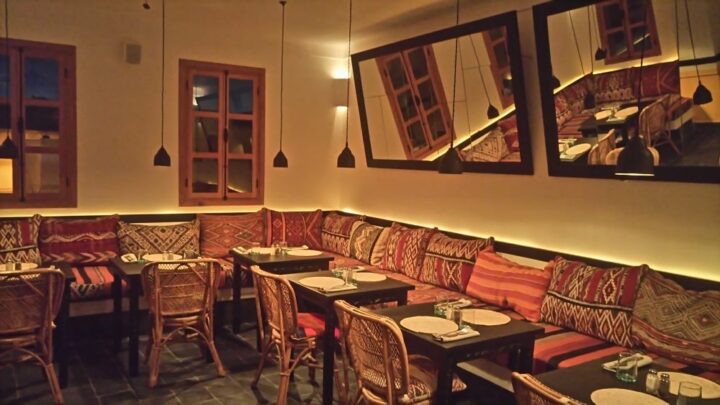 Café Des Épices
Café Des Épices is practically right next to NOMAD. Besides a beautiful rooftop terrace, there are also huge factory windows on the first floor, offering a fantastic view of the Place des Épices, where you can find spices and traditional woven goods. Café Des Épices is particularly recommended for an afternoon break with orange juice or mint tea.
Must-try: Orange Juice and Mint Tea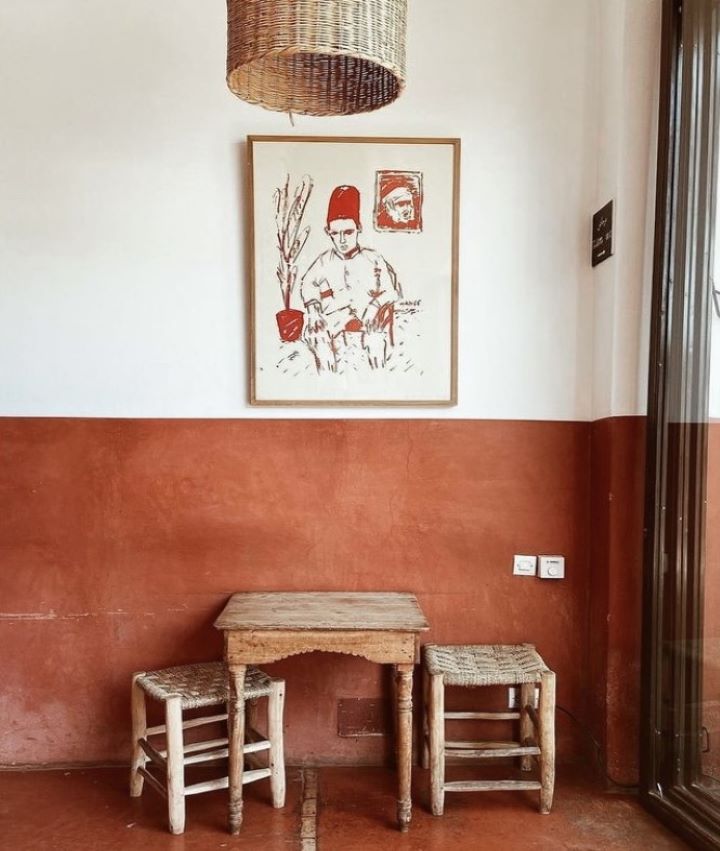 And here are a few more ideas if you want to explore more:
KABANA
Most restaurants in the Medina in Marrakech don't serve alcohol, but if you fancy good cocktails and a hip atmosphere, KABANA is the place to go. It's not the cheapest, but it offers a huge drinks menu, a cool rooftop terrace, and a lively atmosphere.
Mandala Society
Located near Jemaa el-Fna, Café Mandala Society was founded by an Icelandic-Moroccan couple. This results in a colorful mix of Nordic and Moroccan food on the menu. It's a hip café with good music.
Shtatto
Right next to L'Mida, you'll find Shtatto. Here, you'll also find a great rooftop terrace with a great sunset view, a great selection of mocktails, coffees, and juices served with hip electro music. Plus, there's a concept store in the café featuring products from young Moroccan designers.
Musée d'Art Culinaire Marocain
If you want to learn more about traditional Moroccan cuisine, you must visit the Culinary Art Museum near the Bahia Palace. They exhibit all the classic Moroccan dishes, ingredients, and spices, and you can even choose a ticket with a tasting option to try some of them!