Morocco – vibrant, colorful, the Orient. Those are three of the many buzzwords that
came to mind when I thought of the North African Kingdom. Turns out, I wasn't wrong.
Marrakech – The city of my dreams
For quite some time I have dreamed of visiting Marrakech one day; living here for 8 months I would never have expected. Before my arrival Morocco seemed exotic, magical, and, at the same time, mysterious to me. Before even my first night there, I felt the charm of the Orient as I had never felt it in any other city.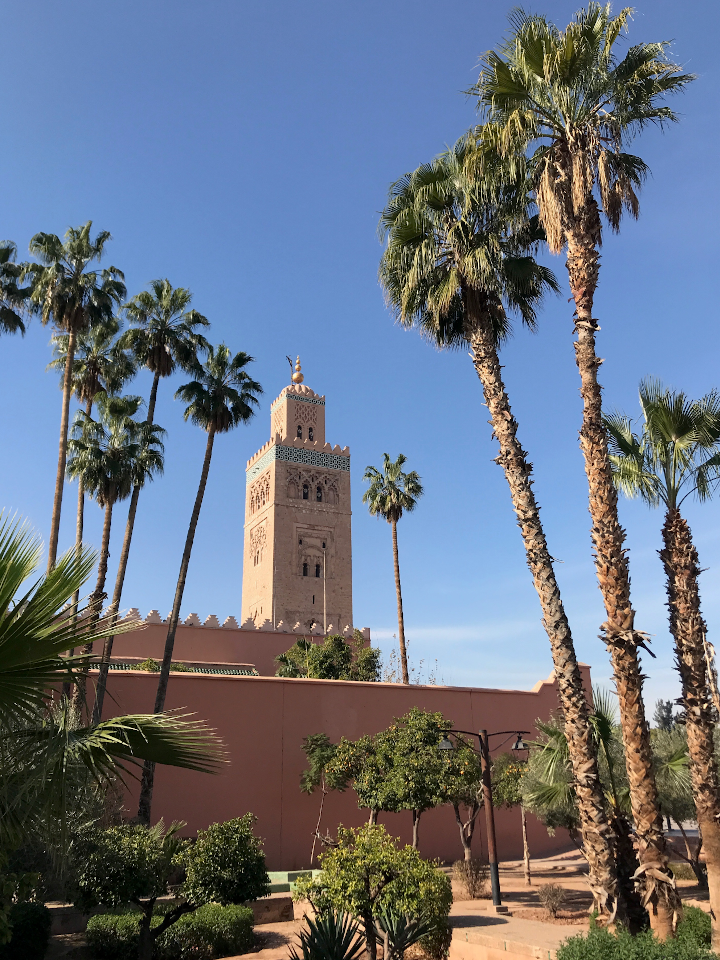 Marrakech, the city at the foot of the Atlas Mountains that offers incredible vistas of snow covered peaks all year, is one of Morocco's Royal Cities. Its vibrant Medina, the old town, could not appear more exotic. With its warren of winding, narrow alleyways, its buzzing street life consisting of motorbikes, people, and donkeys, the city appeared strange and foreign to me at first.
Its Souks, the Moroccan bazaars, with their colors and exotic smells, invite for a stroll. They're a labyrinth of market stalls and make for a mysterious and magical atmosphere. In every corner I find treasure: hand-woven carpets, silver jewelry, Berber hats, Moroccan pottery and glass lanterns
draw me in.
My personal highlight in the Souks: the many stalls offering freshly baked Moroccan pastries. The smell of spices and leather is in the air. I experience a journey into Morocco's fairy tale past.
Riads – hidden oases of silence
Off the beaten track, in narrow alleys where I often get lost and where there are plenty of paths that elude even Google Maps, you can find hidden oases behind inconspicuous doors. The so-called Riads, traditional Moroccan homes, have romantic, lush inner courtyards surrounded by the rooms. Then there are the roof gardens, providing awesome views of the red city. Most Riads are incredibly beautiful and, distant from the lively Medina, they offer tranquility and calm.
In love with the architecture of Marrakech
I particularly enjoy letting balmy evenings fade away in one of Marrakech's many great cafés and restaurants with their roof gardens. In the evening, Marrakech offers an endless range of magical colors and I can watch the lively buzz from above, listening to the Muezzin's call to prayer. Bahia Palace, built in 1867, is especially rich in mosaics, marble tiles, and stucco. At every corner you can tell how much passion for detail went into its construction. The city's many gardens and mosques are also magnificent.
Safety
But how do I feel as a young, European, and, most of all, blonde woman in Marrakech? Ever since I arrived in the city, there has been not one situation in which I felt uncomfortable or even unsafe. I enjoy life in Marrakech: a foreign, exotic, and busy life. Thus far I have gotten to know Moroccans as open, nice, and helpful people. I would be lying if I claimed that I wasn't looked at, talked to, or even chatted up often, but a friendly "La Shukran" (= no, thanks) is immediately accepted and I have not found a single Moroccan to be truly pushy or obtrusive.
Grateful
Summarily, I can say that I am very grateful to have the opportunity to live in a city as great as Marrakech, a city that sometimes makes me feel like I was living in my own story from Arabian Nights. I'm very much looking forward to the coming months and I'm excited about the experiences I will be making next.
©Lena Ottersbach for NOSADE 2020
On a monthly basis, Lena is writing about her experiences and adventures during her internship at NOSADE in Morocco.