Taking a sharp left at kilometer 31 in the Ourika valley is well worth it, as this is where Paradis du Safran can be found. Christine Ferrari, a lovely and sincere Swiss lady, runs an organic saffron plantation here that is definitely true to its name. The property also includes a large garden with herbs and medicinal plants, citrus fruits and exotic plants, as well as stables with donkeys, peacocks, and chicken.
Even though I am theoretically on time for the saffron blossoming in November, the plants have not yet flowered. The past few weeks have been too warm, so it will be ten more days until the 2 hectare field dons the famous bright purple shine.
After a heartfelt welcome, Christine takes me directly into her wonderful paradise garden. Walking past dense rosemary hedges, I realize how good it feels to escape busy Marrakech. Here in the country at the foot of the Atlas mountains, you can relax and calm down. A circular trail takes me past exotic fruit trees to a beautiful overgrown wooden pavilion. Behind it I can see chicken and peacocks picking at the ground in their large enclosure and I can't help but think: they have it good here. Further down the path there are tables providing information regarding not just the cultivation of saffron, various herbs, and medicinal plants, but also sustainability issues such as recycling. Finally I arrive at the barefoot path ending in a "wellness area" containing a number of ice cold foot baths with herbs and petals. That was all it took to convince me, but the place has even more to offer: Christine serves tea and gathers all the visitors for an informative saffron seminar. She shows us how to distinguish between real and fake saffron, has us try saffron dip, and offers her own high quality (Swiss certified!) organic saffron for sale.
Last but not least lunch awaits. Sitting in midst of the garden, we are served course after course, naturally all with a saffron touch. I have been in Morocco for five weeks now and, having eaten my fair share of Tajines, I can honestly say that the Tajine at Paradis du Safran is the best yet! (Followed closely by Ouafa's Tajine, that she prepared with us in her cooking class.)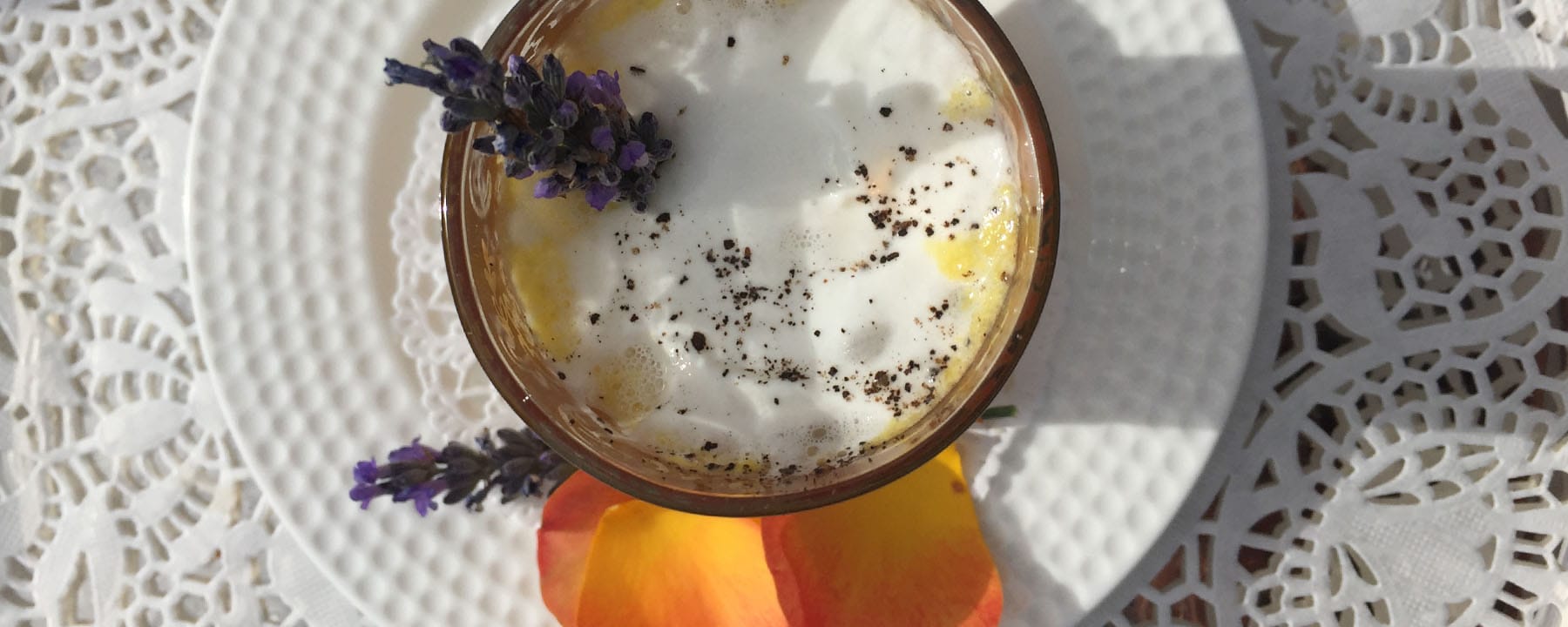 At Paradis du Safran everything comes together perfectly. Should you be spending a couple of days in Marrakech within one of our retreats, I strongly advice you to do a short trip to this saffron idyll!
© Corinna Kaempfe for NOSADE 2016
Corinna is writing on a weekly basis about her experiences and adventures
doing an internship in Morocco with NOSADE.