If you follow us on our Socials you probably have heard the name before. "Dar Moustaqbel" (Arabic for House of the Future) is a non-profit organization founded by Hanneke Ouwehand-Van Hooff in 2016. Dar Moustaqbel is a social impact student housing project, where 55 girls live together, while pursuing further education at the institute of their choice. Living here enables young girls from rural areas of Morocco to fully focus on their studies.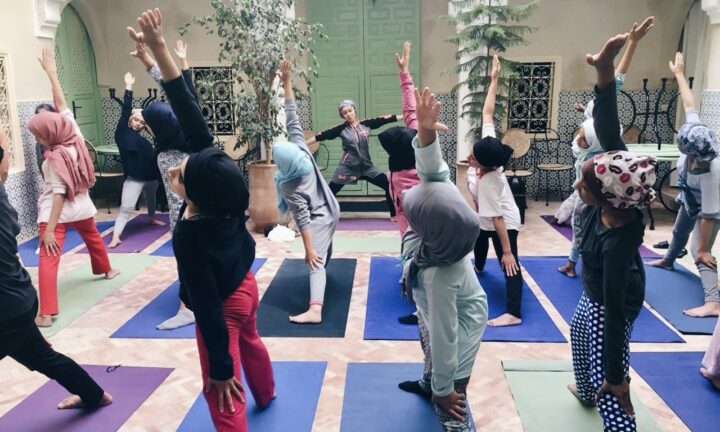 They offer regular extracurricular activities like cycling, language courses and music lessons. We are very proud that NOSADE supports Dar Moustaqbel for many years now by offering free yoga classes for the young women.
One of the teachers who has been visiting Dar Moustaqbel since a long time is Gaia Ceccarelli. Every time she is teaching a yoga retreat with NOSADE, it is also very important for her to teach one class at Dar Moustaqbel.
Here she tells us, why she loves this opportunity:
"For me especially as a woman, but also as a yoga teacher it is an honor to contribute to the empowerment of the girls by offering yoga classes. For me it is a form of Karma Yoga – because I am in service of the cause – giving, spreading light and sharing love, compassion and sisterhood. Yoga is empowering, as it is one of the best ways to build self-confidence, increase your well-being and nurture your passions. But most of all, it is a journey of self-discovery.
Female empowerment has become a huge part of my path as a yoga teacher. Women need to be reminded of their power, their unique loving and fierce essence. Yoga is the perfect discipline to help these young girls to reconnect with themselves, with their bodies and their self-confidence.
I am very grateful for this amazing opportunity, sharing my passion and teaching in this environment."
"As warrior women we embrace the warrior and yogic spirit within us. We are the fierce embodiment of courage, strength, confidence and empowerment. We are the divine feminine, tenderhearted, sensual, compassionate and intuitive. In the union, we find our truth. In doing our personal work of self-investigation, we liberate ourselves and set free our complete being."
– Melayne Shayne
We have an upcoming retreat for all our beautiful warrior women – The goddess retreat, where we are honoring the inner goddess within us, feeling connected in sisterhood and sharing our love for yoga.
Be part of it! More information: The Goddess Retreat Sept 23