When Anica asked me whether I was interested in an internship in Morocco, I immediately and wholeheartedly said "Yes!". I definitely wanted to travel to an exotic country, escape the cold and wet European fall, and work where others go on holiday. Naturally I went prepared: I had read up on it and gathered information – but even the hottest travel guide tips from my favorite book store (and they always know what's right for me in terms of reading material) couldn't have prepared me for what I found in Morocco.
You cannot immerse yourself into foreign cultures just by reading about them, you ought to experience them. That's how things got rolling. My eyes widened when the cab driver picked me up at the airport and – within minutes – tossed me into a world that, while it took some getting used to, has grown so incredibly dear to me by now.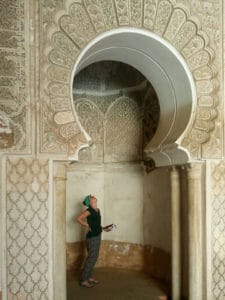 The first moment of astonishment came when the crooked little alleys of the Medina became too narrow for the cab and I had to throw myself and all my luggage onto some strange man's scooter. Oh well, I didn't have much of a choice, right? Just a few minutes later we arrived at my new home, a beautiful and quiet Riad with an unassuming door that did in now way hint at what lay on the other side. The next couple of days were a mixture of marveling and amazement. I couldn't really keep up with all the new impressions and the thought that these surroundings would become my home for the season seemed far fetched. From beautiful restaurants we'd head out into chaotic and sometimes grubby streets, back into quiet Riads with western interiors, back onto the streets of the Medina with their packed shops and the catcalls from the men that I could really do without. Would I be able to be relaxed about it or would I always find it stressful? Anica told me to take my time to arrive. Rightly so.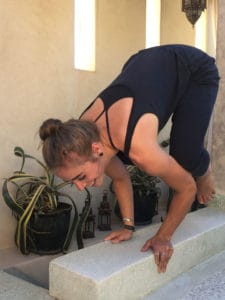 Lo and behold, little by little things turned around and I experienced what I never would've thought: now I kinda like the confusion of the streets. I can deal with the men's sleazy comments (ignore them or, in really tough cases, ask them what Allah or their mother would say about that). I love discovering the confusing Souks, where, between all the usual jewelry/carpet/spice sellers you can find a lot of little gems if you open your eyes. I love shopping at the local fruit merchant, chatting along with the woman next to me. They have even started charging me the same prices as the locals, which, as I understand it, means I really have arrived.
© Corinna Kaempfe for NOSADE 2016