Enjoy yoga overlooking the magical, ancient city of Marrakech. Dive deep into the most famous of Morocco's imperial cities. Dive into the souks of the Medina, enjoy traditional delicious Moroccan food and spend the nights within the true beauty of your quiet housing right in the middle of Marrakech's vibrant heart.
Enjoy 5 days of skillfulness and inspiration on that adventurous and yet grounding urban yoga trip from 27th – 31st March 2024.
Please note, that this retreat will be exceptionally held in German only!
Prices start from EUR 629,- per person and stay, and include:
yoga sessions & morning meditations
accommodation & half board
individual airport transfers
guided tour to all the must sees in Marrakech
Join us for Yoga in Marrakech
A package for both the beginner and the advanced student of yoga, seeking to experience a highly individual tailored yoga & culture trip to Marrakech that is leaving you enough space and free time to explore the city & culture on your own.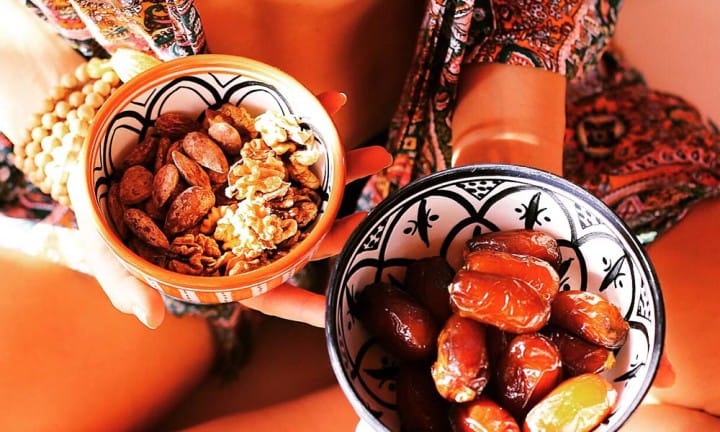 Marrakech – the pearl of the south
This is what you can expect
4 nights in shared accommodation (single /double / twin rooms available upon request & availability with subject to surcharge) in our beautiful, small NOSADE Riad right in the middle of the Medina
Half board (breakfast & dinner) with meat & vegetarian / vegan options
6 yoga sessions (powerful, all levels Yang practice in the morning, calming Yin practice with the sunset ) with
Sabine Klein, incl. morning meditation & Pranayama
1 guided PIKALA bike tour to all the cultural must sees in Marrakech
Further Details
We have developed a hygiene concept to ensure you a safe trip with NOSADE. The protection of our guests and our employees is of unconditional importance to us. With utmost care in all areas and strict hygiene we live up to our co-responsibility for the containment of the Coronavirus.
More information in our FAQ.
Day 1: Arrival + Introduction / No yoga
Arrival in Marrakech throughout the day & Transfer from the airport to the Riad
(Transfer will be arranged individually according to your arrival time)
19.30: Introduction & welcome dinner in the NOSADE Riad
Day 2: PIKALA City Tour on bicycles / 2 Yoga Sessions
07.30-09.00: Morning Yoga, incl. Pranayama + Meditation
09.30: Breakfast
11.00: PIKALA bike tour to all the must sees of Marrakech
15.00-17.30: Free time
17.30: Sunset Yoga
19.30: Dinner in the Riad
Day 3: Optional Paradis du Safran / 2 Yoga Sessions
07.30-09.00: Morning Yoga, incl. Pranayama + Meditation
09.30: Breakfast
11.30: Optional heading to Paradis du Safran (subject to surcharges)
16.00: Transfer back to Marrakech
17.30: Evening Yoga
19.30: Dinner outside in a nice restaurant
Day 4: Optional La Maison de la Photographie / 2 Yoga Sessions
07.30-09.00: Morning Yoga, incl. Pranayama + Meditation
09.30: Breakfast
11.30: Optional heading to the museum of Photographie (subject to surcharges)
11.30-17:00: Free time in the museum and afterwards for some shopping in the souks
17.30: Evening Yoga
19.30: Dinner in the Riad
Day 5: Departure / No Yoga
Breakfast & Departure
(Transfer will be arranged individually according to your departure time)
*We recommend / favorize / are happy to be helpful to visit the following places
Le Jardin Secret, Jardin Majorelle (incl. Café Dar Kaowa & ConceptStore Rue33Majorelle), NOMAD Restaurant, Café de la Poste (Gueliz), La Famille Café, Kosybar, Café Clock, Bacha Coffee, Amals women and training center, Association Alnour, Bakkal farm, Hammam de la Rose, Kosyspa, Hammam Mille et une nuit
Paradis du Safran (as a daytrip): Here, at the foot oft he Atlas Mountains, you can see how to grow and process Safran / get taught the relevant knowledge about the qualities of Safran and how to distinguish between real and fake Safran / Optional Safran menu for lunch.
*Yoga lessons are usually taught in English.
Please note:
Entrance fees have to be paid separately. Time schedules may vary depending on weather & season.
You are welcome to book additional private yoga sessions with the teacher or additional tours – upon request, availability & with subject to surcharges. Please talk to us.
Since 2012, Sabine is teaching a mindfulness-based, calm and precise yoga style in Yogastudios and private lessons in Berlin.
After two decades of her own yoga praxis, she decides for her first training at Spirit Yoga in Berlin, another training in the traditional style after Sivananda, training in Yin and restorative yoga as well as yoga therapy.
Basis of her teaching is the flowing style of Vinyasa Yoga with the emphasis on Pranayama and meditation.
Yoga does not have a certain way or style for her, but is an individual practice path, in which you have to experience and explore always new paths and ways and reevaluate, where you stand, what you need and where to go.
Her lessons provide the space to go this way with joy and enthusiasm.
You will stay in our NOSADE Riad and breathe in the mystical history of Morocco´s most vibrant city!
Located in the Medina – Marrakech´s historical old town – our Riad is truly a living relict of
the tales of thousand and one nights. Belonging to the oldest houses in town – it still partly inhabits the original and stunning architecture of the 19th century – seducing its residents with original tiles, as also a charming fountain and woodcrafts in the patio.
Live between old walls and experience an energizing magic, that was eventually spread more than 150 years ago by one of the many women of Marrakech´s Pacha living her exclusive, but yet very private life in the Riad.
On top of this very private Riad experience – you will have the spacious rooftop for outdoor yoga practice, afternoon hangouts and sunbaths, as well as fabulous tasty food.
Regular accommodation happens to be in a spacious shared triple room (same gender) with ensuite bathrooms & free wifi access. Single or double accommodation is bookable upon request / availability and with subject to surcharges.
Marrakech holds an international Airport Marrakech Menara. Transportation from and to the airport is arranged by NOSADE once you submitted your flight details.
Please note: Flights are not included in the quoted price.
While drifting through the Medina, you admit yourself discovering treasures everywhere in any shape: Spices, perfumes, handicrafts, carpets, jewelry. Between all the small shops you will find tiny fruit and vegetable stalls where farmers offer their freshly harvested products; old carriages serving as counters for fresh delicious bread. Everything is surrounded by a bewitching smell. The whole city seems to be enchanted by the drumming and singing, by snake charmers and storytellers. Calm and coolness can only be found once entering the very narrow streets.
In Marrakech, it is easy though to feel comfortable and at home despite its strangeness and fascination – in this sea of seething life, bustling action, loud shouts and the feverish, everlasting and never ending circle of boiling life.
Indeed no other city in the world deserves the name "Pearl of the South" more than Marrakech.
What does Retreat stand for on a trip with NOSADE?
Accept what is. Escape daily routines, find inner peace, inner balance, and inner tranquility. Morocco will challenge you to do so – with all its sounds, smells & (for us Westerners) sometimes unusual manners. We encourage you to open up for all those impressions.
Two daily Yoga and meditation sessions in Morocco's mystical surroundings will be accompanying and supporting this experience.
The most common questions we tried to answer for you in our FAQ. Please don't hesitate to get in touch with us personally if your specific question is not listed yet.
Prices for this retreat start from EUR 629,- per traveler and include:
Shared triple accommodation (same gender, separated mattresses, ensuite bathroom, free wifi-access)*
Half board (breakfast + dinner, incl. water

during

dishes)
6 yoga sessions & morning meditations
1 guided PIKALA bike tour to all the cultural must sees in Marrakech
Individual transfers from and to the airport
*Single, twin or double bedrooms and additional activities are subject to surcharges.
Your journey to and home from Marrakesh is not included.
To make a booking request, select the dates you require, and fill in the form as prompted.
Once received your booking request, NOSADE will contact you within 72 hours and together we create your very individual trip.
Should you have questions upfront, don't hesitate to call +49 176 21308602, send us an Email via info@nosade.com or just use our contact form.
By sending the booking request you agree on our Terms & Conditions.
Once we have created your individual trip package together, you are confirming your booking request with sending over your private postal address. The request is turning into an official booking by then. NOSADE will send you an official booking confirmation via Email and a contract comes into force. In addition to the booking confirmation you'll a travel insurance certificate submitted.
With the arrival of these two documents a deposit payment of 20% of the tour price will be due immediately. 28 days before the beginning of the trip, the remaining 80% of the tour price will be due.
Payment by installments is possible as well. Please talk to us, if necessary.
Please note that just as any other package offered by NOSADE, our Marrakech Yoga Retreat package is customizable in parts. Talk to us!
We are arranging individually scheduled and tailor-made city retreats at any time of the year for groups starting from 3 people. Please contact us!