Retreating at Morocco's beautiful Atlantic Coast, far away from everything: This retreat is providing you with solitude, tranquility, extensive yoga practice and relaxation amid nature and only a stone's throw away from the private beach.
NOSADE is offering this coastal yoga retreat from 9th December – 16th December 2017.
Prices start from 999€ per person and stay, and include:
daily yoga classes & meditation
2 intensifying yoga workshops
shared accommodation (double / twin / single accommodation with subject to surcharge)
half board (breakfast & dinner) with meat & vegetarian options
airport transfers (from / to Agadir)
1 excursion into the surrounding area
1 week of yoga, meditation & workshops at the seaside embedded in spectacular nature
Days filled with intense yoga practice & meditation in magic lonesome sceneries and relaxation amid pure nature! Culinary, cultural as well as spiritual experiences are awaiting you.
Atlantic Coast Beach Yoga Retreat
This is what you can expect 
10 yoga sessions (energizing practices in the morning and a relaxing, gentle practice in the evenings) with Katrin Antonow, as well as morning meditation
2 intensifying yoga workshops
7 nights in shared accommodation of TASGUA-YAN Hôtel de Charme
(twin / double / single accommodation with subject to surcharges)
7 healthy, lovely prepared and traditional meals
(breakfast & dinner – meat as well as vegetarian or vegan options)
1 Excursion into the surrounding area
Further excursions or hiking in the area, individual yoga sessions / coaching and massage treatments / cooking classes can be booked upon request / availability and with subject to surcharge
Further Details
Day 1 (9th Dec)
Arrival in Agadir (transfer will be arranged according to your arrival time)
19.30: Introduction & welcome dinner in Tasgua-Yan Hôtel de Charme
Day 2-7 (10th Dec – 15th Dec)
Morning Yoga, incl. Pranayama + Meditation
Free Time / Excursions / Yoga Workshops throughout the day
Evening Yoga & Dinner
Day 8 (16th Dec)
Farewell breakfast & Departure
Transfer will be arranged according to your departure time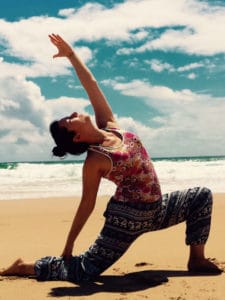 Katrin discovered yoga 10 years ago when she practiced her first sun salutation. What initially was meant only as a compensation for other sports, quickly developed into a passion that continues to this day. In addition to her work as a lawyer, Katrin completed her apprenticeship as a yoga teacher at Spirityoga in Berlin in 2014. Since then, she has continued to pursue her studies.
Katrin is particularly fascinated by the healing power of yoga, which is created by the combination of breath, mind and movement and, besides physical relaxation, leads to inner peace and serenity. In her clearly structured and partly demanding classes, Katrin attaches great importance to giving each student sufficient space for his or her individual needs and to discover the many facets of yoga for themselves.
Katrin teaches a powerful Vinyasa Yoga at various studios in Berlin.
Accommodation + Surrounding Area
Tafedna is a small fishing and farming village, south of Essaouira and north of Agadir. Stretching over two miles, the Bay of Tafedna boasts a soft, sandy beach tucked among the Argan cliffs that makes any encounter with the waves of the Atlantic uniquely memorable, a far cry from the overcrowded shores of elsewhere.
Only the seasoned traveller is familiar with the beauty and tranquility of this region, nestled between the Atlantic Ocean and the High Atlas mountains of Morocco. And few people dwell in this vast expanse where the vegetation and argan trees hold sway.
Tafedna is also synonymous with Tasgua-Yan, a charming 14-room hotel overlooking the sea, its architecture crafted from local stone and timber. It is a place renowned for its restful tranquility, its organic produce and its traditional Moroccan cuisine.
Agadir holds an international Airport Al Massia. Once arrived in Agadir we will take care for the transportation from the airport. Same on your way back.
For economic reasons you might be waiting for some more people to arrive and won't be taken to the hotel immediately, as the hotel is 140km away from the airport.
What does Retreat mean on a trip with NOSADE
Accept what is. Escape daily routines, find inner peace, inner balance and inner tranquility. Morocco will challenge you to do so! Come back to what grounds and stabilizes you.
Two daily Yoga practices and meditation sessions in the magical, mystical surrounding of Morocco will be accompanying and supporting this experience.
The most common questions we tried to answer for you in our FAQ. Please don't hesitate to get in touch with us personally if your specific question is not listed yet.
Prices for this retreat start from €999,- per traveler and include:
Shared triple accommodation (same gender, separated beds, ensuite bathroom)*
Breakfast & dinner (incl. water & tea)
10 yoga sessions & 2 yoga workshops
1 excursion into the surrounding area
Transfer from and to the airport & transfers during the trip
*Single, twin or double bedrooms and additional activities are subject to surcharges.
Entrance fees have to be paid separately.
Your journey to and home from Marrakesh is not included.
To make a booking request, select the dates you require, and fill in the form as prompted.
Once received your booking request, NOSADE will contact you within 24 hours and together we create your very individual trip.
Should you have questions upfront, don't hesitate to call +49 30 68075494, send us an Email via info@nosade.com or just use our contact form.
By sending the booking request you agree on our Terms & Conditions.
Once we have created your individual trip package together, we will send you an official booking confirmation. By then a contract comes into force. In addition to the booking confirmation you'll get a travel insurance certificate submitted.
With the arrival of these two documents a deposit payment of 20% of the tour price will be due immediately. 28 days before the beginning of the trip, the remaining 80% of the tour price will be due.
Payment by installments is possible as well. Please talk to us, if necessary.
Please note that all our Yoga Retreat packages are individually customizable in parts. Talk to us, if you are interested in staying longer or shorter, traveling elsewhere, etc.
We are arranging individually scheduled and tailor-made yoga trips at any time of the year for a minimum of 2 participants.
Please contact us!